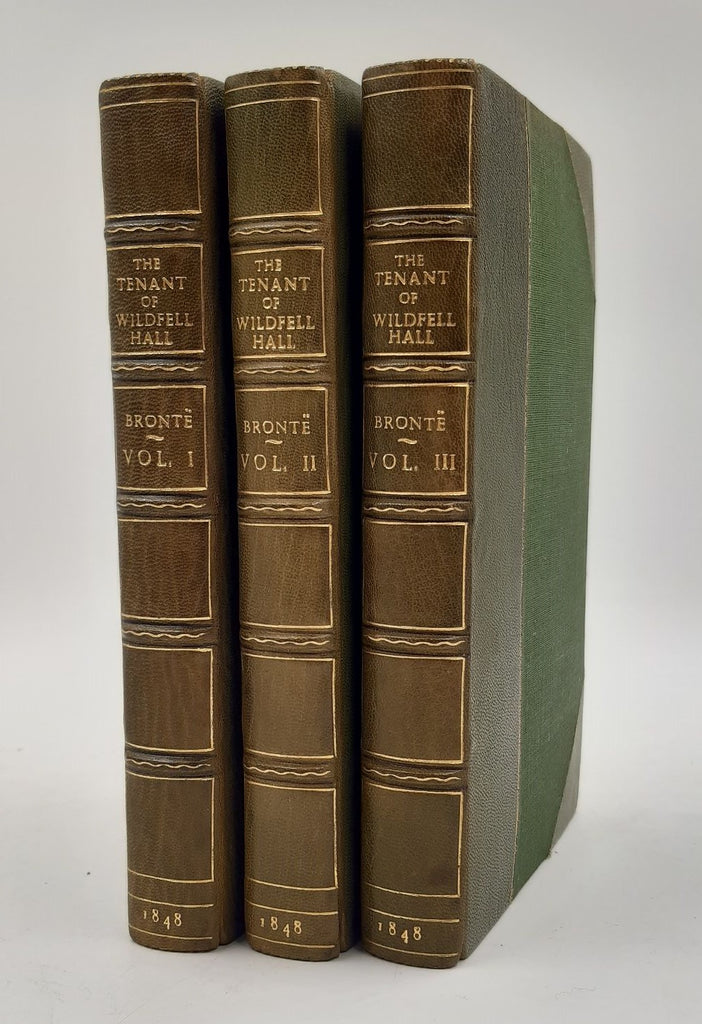 London: T.C.Newby. 1848.

First edition. Three volumes. 12mo. 190x110mm. pp. [4], 358; [2], 366; [2], 342. Bound by Bayntun-Riviere (for Henry Sotheran) in modern green half morocco, boards covered in green linen. Spine lettered in gilt, five raised bands with gilt wavy line, compartments decorated with a single gilt border. Marbled endpapers. A neat, attractive binding in excellent condition. Internally very good with only slight foxing in places. Repair to half title in volume I. Two leaves (Q11 of volume I and D2 of volume III) have been expertly repaired and there is a closed tear to the foot of D9 of volume III not affecting the text. Volume 1 lacking final leaf with publisher's advertisements. A very good copy of the scarce first edition of Anne Brontë's only separately published novel. 500 copies were printed but no more than 300 were issued as the first edition. The book sold well and the remaining copies were issued a few months later, with a new title page and a (now celebrated) preface by Anne, as the second edition.

Initially regarded by some critics (not least her sister Charlotte who thought the subject matter a "mistake") as "coarse" and "revolting" but now seen as a prescient and innovative in its realistic handling of subjects such as alcoholism, marital disarray and mental collapse that nineteenth century writers tended to address obliquely, if at all. The Tenant of Wildfell Hall is regarded as one of the first feminist novels in its sympathetic treatment of a woman asserting her freedom in the face of male abuse. But it is a multi-layered, complex book as we can see from Charlotte Brontë's harsh but perceptive view that the novel was written "under a strange conscientious, half-ascetic notion of accomplishing a painful penance and a severe duty. Blameless in deed and almost in thought - there was from her [Anne's] very childhood a tinge of religious melancholy in her mind".