The Itinerant; or, Memoirs of an Actor, and; The Itinerant in Scotland
RYLEY, S.W.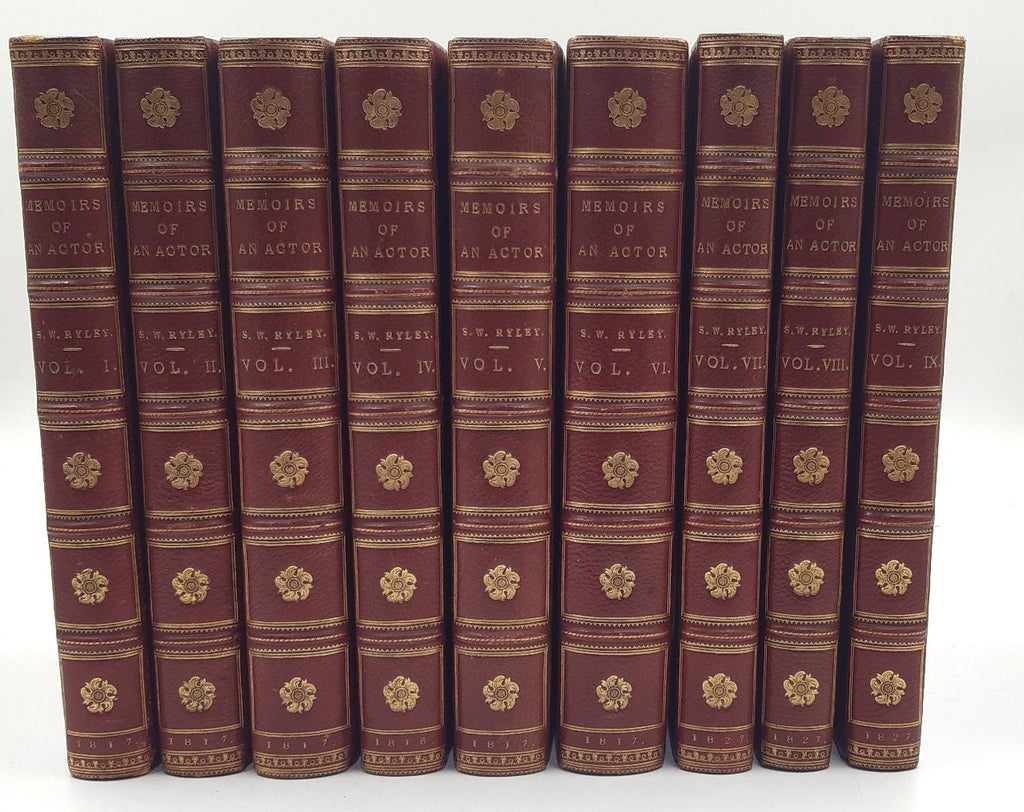 London: Sherwood, Neely & Jones (and Sherwood and Co). 1817.

Nine volumes. Volumes I-III: The Itinerant; or, Memoirs of an Actor, Second edition. In three volumes. 1817. 12mo. 185x110mm. pp. 323, [1, advert for Vols iv-vi "just published"]; [4], 320; [4], 380. Engraved portrait frontispiece in volume one.
Volumes IV-VI: The Itinerant; or, Memoirs of an Actor, Second Series, first edition, 1816-1817. 12mo in 6s. 185x110mm. pp. [6], 155, [1bl], 162; [4], 371, [1]; [4], 446.
Volumes VII-IX: The Itinerant, in Scotland. Third Series, first edition, 1827. 12mo in 6s. [8], iv, 336; [2], 322; [2], 322. Half titles in third series only.
Attractively bound in slightly later red half morocco, marbled paper covered boards. Spine compartments decorated in gilt borders and gilt floral motif. Lettered in gilt. Top edge gilt. Marbled endpapers. Some minor wearing to edges of boards but otherwise a very handsome binding. Internally very good with some browning in third series and some light foxing elsewhere. Front endpapers have armorial bookplates of Thos Basil Duguid (from an Aberdeen family, his bookplate is found on other books from the 1820s and 30s) and Godfrey G. Roundell Greene. The latter (1888-1956) taught English literature at Gothenburg, Krakow and Helsingfors Universities.
Series One of The Itinerant (volumes I-III) was first published in 1808. This first edition is extremely scarce with the British Library being the only UK library to hold a copy. Where all nine volumes are found institutionally, it is almost exclusively with the second edition of the first series, as here. Only two (rather poor) nine-volume sets (with the first three volumes in the second edition) have sold at auction in the last seventy-five years. Incomplete sets do appear but usually without The Itinerant in Scotland as by the time this appeared, the publisher had gone bankrupt and the remaining unbound sheets were sold for scrap. It is, therefore, unusual to find all nine volumes of this entertaining book in such good condition.
Samuel William Ryley (1759-1837) was "reckless, ardent, and unfortunate" (ODNB). Born Samuel Romney, he amply demonstrated these characteristics in the opening two decades of his life when he ran off, aged seventeen, with his boss's daughter to marry at Gretna Green. Shortly after this, he inherited £4000 from his mother's uncle (fortunate) but then proceeded to plough through the lot (unfortunate). He changed his name from Romney to Ryley and in 1783 joined a company of actors in Newcastle. Apart from one failed attempt at theatre management and a short (also failed) spell as a drinks salesman, he spent the rest of his life as a "strolling actor" popping up in London and the growing cities of Northern England finally settling near Liverpool where his own play The Irish Girl was given its premier in 1825. His final years seem to have been spent running what sounds like a variety act which involved singing his own songs and accompanying a group of dancers on the violin.
The Itinerant is not, strictly, an autobiography; it does not recount the details of Ryley's life with any accuracy, but it clearly draws on the first-hand experiences of a jobbing actor in Georgian England where one's career and any kind of material comfort hung by the thinnest thread. It reads as a sort of picaresque novel and it is no surprise that Ryley describes himself as draped in a "Shandyean mantle". In 1793 Ryley had produced an operatic adaptation of Smollett's Roderick Random and the wild madness of eighteenth-century fiction runs through Ryley's work. The Itinerant roams widely both geographically and emotionally and Ryley is an amusing story-teller with a good eye for grotesque detail. He also has a nice line in homespun philosophy such as this little apercu which could serve as the motto for Ryley's book and his life: "But a good scarcely ever comes without its attendant evil".