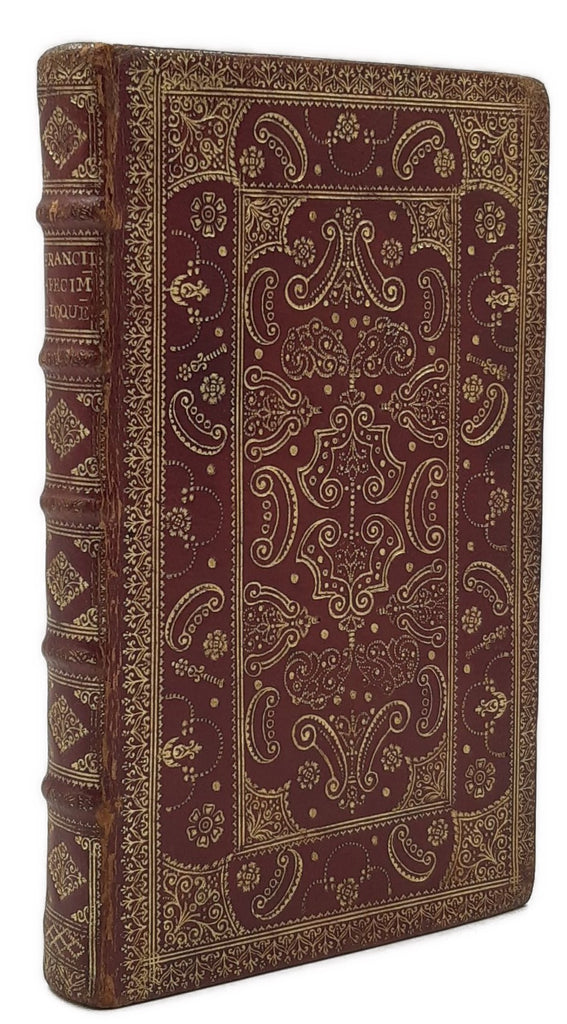 Amsterdami: Henr. Wetstenium.. 1697.


8vo. 162x97mm. pp. [48], 192. Prettily bound in contemporary red morocco, both covers delicately tooled in gilt with a floral border framing an inner border of drawer-handle and flower motifs and small gilt dots, with arabesque cornerpieces. A central panel is decorated with drawer-handles, arabesque cornerpieces, leafy sprays and rococo patterns constructed with tiny dotted lines. All edges gilt, turn-ins tooled in gilt, marbled endpapers. Slight bumping and rubbing to corners and joints but otherwise a beautiful little binding in excellent condition. Internally very good but with a small portion of the title page repaired with later paper, affecting a few letters. Slightly browned in places but overall a very good copy. Title page has inscribed ownership initials "W.J.K" and on the verso of the front free endpaper is the surname beginning with "K" which possibly reads "Kenyon" but is unclear. Contemporary annotations through the first half of the book presumably by "W.J.K". Some copies of the Specimen eloquentiae exterioris include the text of two of Petrus Francius's own orations but these are not called for and are not in all copies (for example the copy at the BnF does not have them while that at the Bodleian does).
Petrus Francius (Pieter de Frans – 1645-1704) trained as a lawyer but made his career as a professor of Rhetoric, History and Greek in Amsterdam. His teaching methods were demanding – he expected his students to develop their rhetorical skills by reciting the speeches of Cicero and Demosthenes from memory. He was famous for his lectures and his own public speeches and for the recitations of his poetry which drew on his favourite classical authors, Horace, Pindar and especially Ovid. The present book begins with the text of Cicero's speech Pro Archia (62BC) in defence of the Roman poet Archias who had become entangled in a political dispute. Francius takes this speech as the starting point for a set of detailed rules governing the ideal "rhetorical performance". The first part contains thirty nine regulae circa pronuntiationem and fifty six regulae circa actionem.