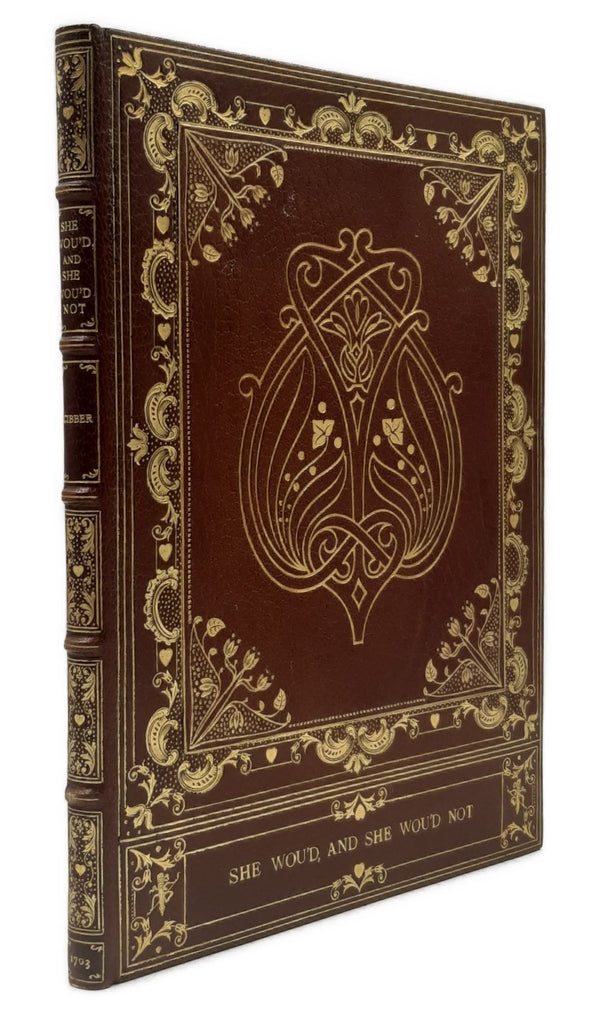 A Comedy As it is Acted at the Theatre-Royal in Drury Lane. By Her Majesties Servants.
London: Printed for William Turner. 1703.

First edition. 4to. (218x153mm). pp. [8], 74, [1, 1bl]. "Bound by Riviere & Son from designs by J.H.Stonehouse" stamped at foot of front turn in. Tan full morocco, upper cover decorated with lavish gilt frame at the centre of which is an art nouveau design. Below this frame is a smaller oblong panel with borders tooled in gilt, inside which is the title in gilt. Lower cover is simply decorated with a gilt double fillet with leaf motif cornerpieces. Spine with five raised bands, compartments richly decorated in gilt, second and third compartments lettered in gilt. Silk endpapers, all edges gilt. Housed in a slip case (also by Riviere) covered in dark green morocco. About two inches of this covering is missing from the top edge. The spine is lettered in gilt and indicates that this is a "Cosway Binding". In fact, what has happened is that the "Cosway" portrait has been removed from the upper cover and replaced with the flowing art nouveau pattern. It is only on close inspection that one can see what has been done. It is all rather artful, very skilfully done and, depending on one's view of Cosway Bindings, it might or might not be considered an improvement. An excellent binding and a real curiosity in superb condition. Internally in very good condition with occasional foxing and marking. With the final epilogue leaf. The printer's ornament is three flowers, a variant having four. ESTC locates six copies in UK libraries and sixteen in the US.