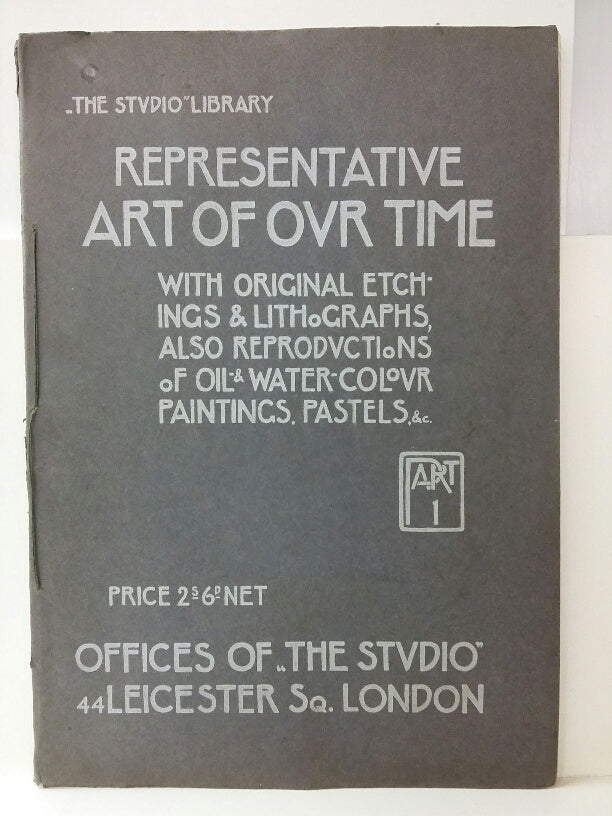 London: The Studio. 1903.

Complete in Eight Volumes. This excellent set is in its original grey paper wrappers. The whole is of a very high quality. Each Part contains an introductory essay on a particular artistic medium. These are paginated consecutively through the series running to 64 (unopened)pages. The subjects covered are: 1. Wood Engraving; 2. Lithography; 3. Oil Painting; 4. Water Colour; 5. Etching and Dry Point; 6. Pastel; 7. Monotyping in Colour; 8. Pencil and Pen. A French translation is loosely inserted in each part. Every issue has six tipped-in plates. These include original etchings and lithographs. There are fine reproductions of water colours, pastels and oils the originals of which, in a number of cases, were created specially for this series. The contents are in excellent condition and the plates are superb. There is some slight tearing to the spines of some of the wrappers but with no loss. Overall this is a fine, complete, original set in excellent condition.
The plates are all in excellent condition. Examples of the work in this series include: auto-lithographs by Steinlen, Frank Brangwyn and Henri Rivière and La Thangue; original etchings by A. Lepère and D.Y.Cameron; reproductions of oil paintings by George Clausen, J.S. Sargent and Philip Wilson Steer and of watercolours by Albert Goodwin and Herbert Marshall. The 48 plates (all complete) are wonderful examples of the aesthetic of the very early twentieth century as seen through the pages of The Studio. There is a certain amount of late Victorian/ early Edwardian sentimentality, many pastoral scenes, bourgeois cityscapes but with the occasional darker image of working class life. A fine collection.