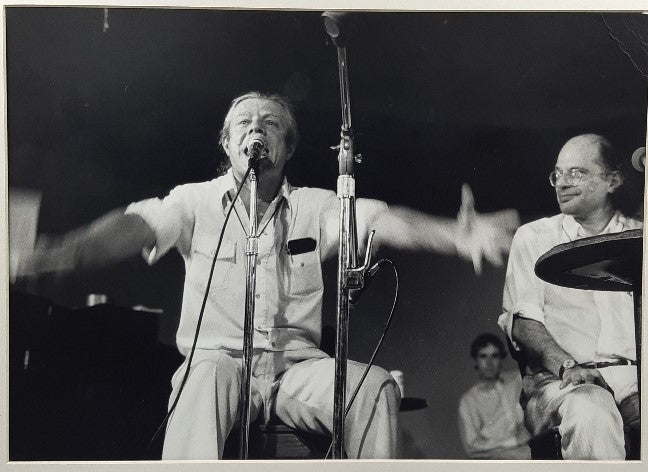 San Francisco. 1979.

Black and white photograph by Anita Corbin. Photograph measures 370x263mm in the mount which is 470x365mm. A small crease to the top right corner but otherwise in excellent condition. It shows Peter Orlovsky and Allen Ginsberg during a poetry recital. Orlovsky is centre stage, mid-declamation and with his arms stretched out. Ginsberg is sitting next to him quietly watching him perform. The photograph is pasted onto card and placed in a white card mount. On the back of the card is an inscription "To Peter, love and hugs Anita Corbin". Below this is written, in Orlovsky's own hand, "Taken in S.F. A Beatitude Benefit. Sept 18th 79".
In September 1979, the Savoy Tivoli at 1434 Grant Avenue San Francisco hosted a benefit reunion for Beatitude, the magazine founded by Bob Kaufman, John Kelley and William Margolis in 1959. Ginsberg contributed to the first issue and wrote frequently for the journal. This benefit reunion has become a legendary event in the history of Beat performance poetry as it marked the return of Bob Kaufman after a fifteen year self-imposed writing exile. This photograph is a very early work by Anita Corbin who made her name with the 1981 Visible Girls series. It is a rather moving work capturing Orlovsky's enthusiasm and energy and Ginsberg's admiration and devotion for his partner.