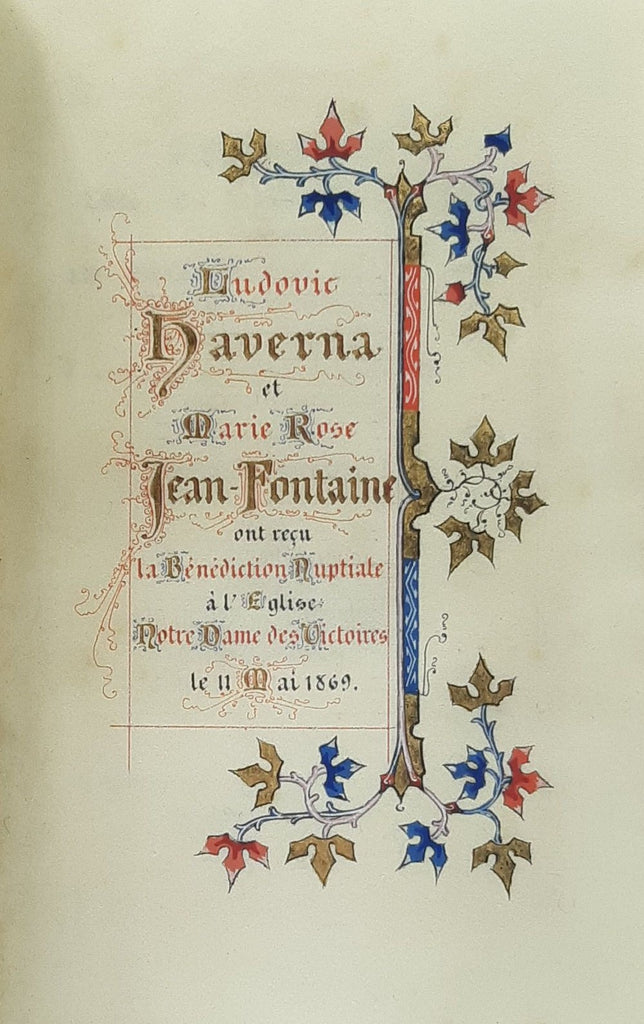 contenant les offices de tous les Dimanches et des principales Fetes de l'annee en Latin et en Francais extrait de Breviaire et du missel de Rome augmente du Commun des Saints approve par Monseigneur 'Archeveque de Paris.
Paris: Morizot, Libraire-Editeur. n.d. [1860s].

Small 8vo. 140x90mm. pp. [iv], 668. Chromolithography frontispiece and twelve engraved plates. Beautifully bound by Charles Francois Capé in blue morocco, lavishly decorated in gilt with the monogram "A.M." at each corner of the covers, spine with five raised bands, compartments richly decorated and second compartment lettered in gilt, cream silk endpapers, all edges gilt. On front free endpaper is stamped in gilt "M.J.F. 27 Juin 1861". The following leaf has the inscription "A Madlle (i.e. mademoiselle). Marie Fontaine, Souvenir de relieur, Capé 31 December 1859". Bound in before the title page is an exquisite Gothic Revival illuminated manuscript on vellum recording the marriage of Marie Rose Jean-Fontaine to Ludovic Haverna on 11 May 1869. This is written in red and black with decoration drawn in blue and red highlights in thickly applied gold leaf. A gorgeous little prayer book and missal in immaculate condition.
Capé (1806-1867) began his working life as a porter at the Louvre while learning the art of bookbinding in the museum library. In 1848, he established his bindery in Rue Dauphine where he carried out for work for distinguished clients as well as building his own fine book collection. This charming work was clearly done for friends given the warm inscription. And the insertion of the beautiful illuminated leaf shows that the book was, unsurprisingly, much treasured by Marie Fontaine throughout her life.