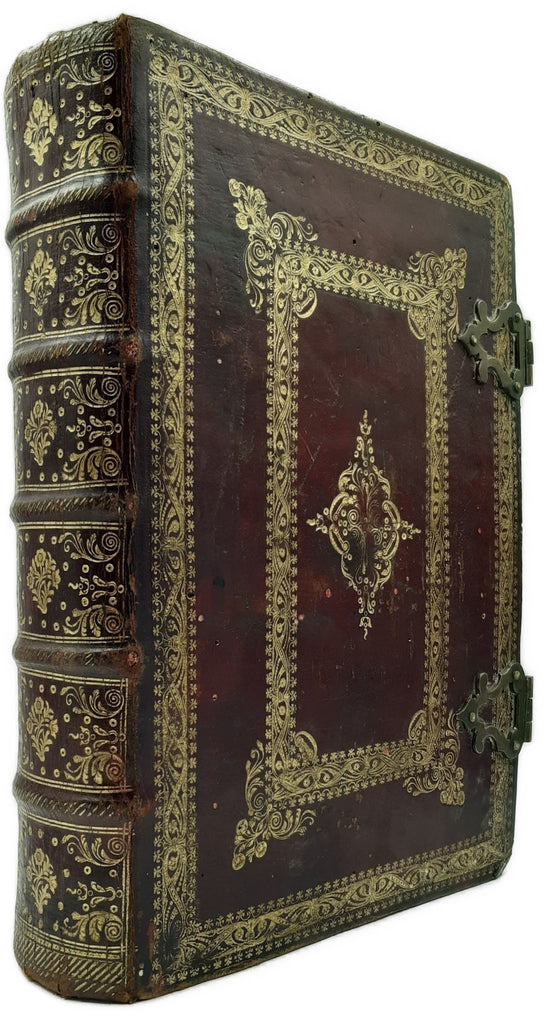 Concilii Tridentini Restitum, S.Pii Pont. Max. Jussu Editum, Et Clementis VIII Primum, Nunc Denuo Urbani Papæ VIII. Auctoritate Recognitum, Et novis Missis...fuis locis accuratè ponuntur.
Bound with Missæ Propriæ Sanctorum Trium Ordinum Fratrum Minorum S.P.N.Francisci. Ulyssipone [Lisbon]: Michaelem Manescal da costa. 1765
and with: Missæ Sanctorum novæ et propriæ a summis pontificibus approbatæ et concessæ pro regno Portug. Brasil. et Algarb. Olisipone: Ex typographia Rollandiana. 1824
and with: Missæ Speciales pro Patriarchatu Lisbonensi (n.d.)
Ulyssipone [Lisbon]: Michaelem Manescal da costa. 1764.

Folio in 6s. 293x210mm. pp.[60], 658 [i.e.672], cxliv, [4].
Missæ Propriæ Sanctorum: pp. [10], 58. Missæ Sanctorum novæ: pp. 40. Missæ Speciales pro Patriarchatu Lisbonensi: pp. 8. Engraved plates of the Annunciation, Crucifixion and the Resurrection. Beautifully printed in red and black. Contemporary red morocco, gilt. Both covers with richly tooled borders framing a further central border with ornate cornerpieces inside which is a lozenge formed of drawer-handle tooling and leaf motifs and small circles. Spine with five raised bands, compartments decorated in gilt with fleurons. Marbled endpapers, all edges gilt and gauffered. Brass clasps. Corners bumped and bottom edges worn and some small wormholes on upper cover, otherwise in very good condition given that this missal was clearly used daily at the altar. Internally, there is some marginal damage to leaves Aaiii, iv (closed tear), v and to Bb iv (no loss of text) which are part of the text of the Mass and so would have been the most heavily used section of the book, pages being turned backwards and forwards each day. Some foxing and marking (slightly heavier to gathering CC) but overall in excellent condition. Tiny hooped bookmarks have been attached to the fore-edge of ten leaves to enable easy page-turning during the service.
A handsome altar missal printed by the pre-eminent Lisbon printer of the second half of the eighteenth century. Miguel Manescal da Costa ran the Portuguese National Printing Office from its founding in 1769 until his death in 1801. This missal just predates his appointment but it is clear from the quality of the printing on display here why he was chosen.