Memoirs: Containing the Lives of Several Ladies of Great Britain
[AMORY, Thomas]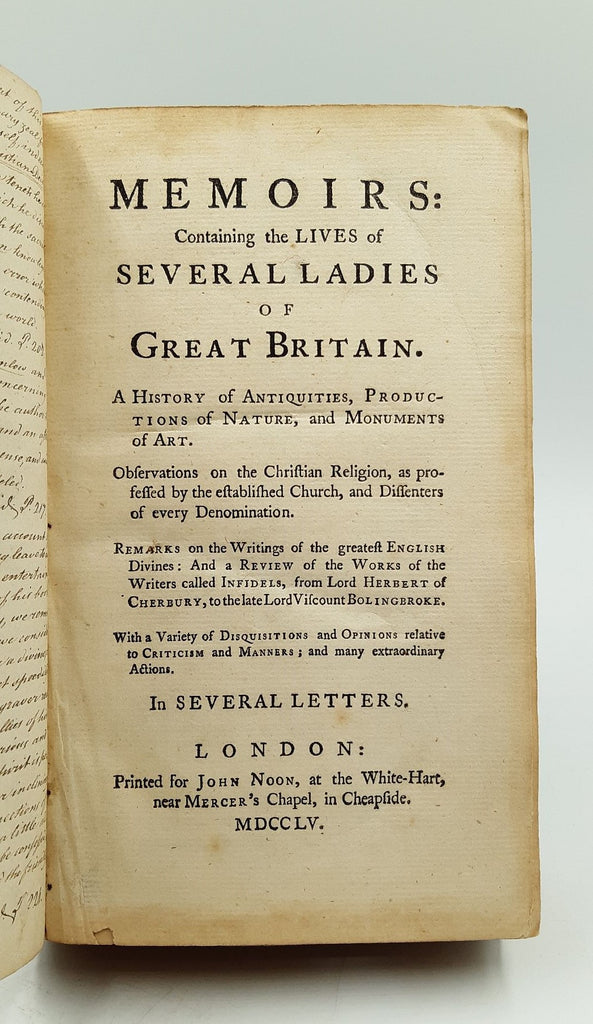 London: Printed for John Noon. 1755.

First edition. 8vo. 210x125mm. pp. xxxi, [9], 464, 469-527 [1, adverts]. Collates complete. Contemporary calf, rebacked, dark green morocco label to spine, lettered in gilt. Gilt double fillet and blind tooling to borders of covers. Rubbing and wear to corners and edges of covers. Some damp-staining internally with but overall a very good copy. A contemporary owner has inscribed four pages of excerpts from a review notice in the Monthly Review (volume 13, dated 1755). There are some additional notes in the same hand. This book was originally issued (also in 1755) as "Memoirs of Several Ladies of Great Britain" and both title pages are present.

It is hard to think of a book where the main title and the sub-titles appear to have so little to connect them. Anyone picking up this book hoping for some good biographical yarns will be disappointed. The title is "clickbait" suggesting lots of juicy tales but mainly offering obscure theological obsessions (albeit slightly sexed up). As the Monthly Review said in 1755, "The celebration of these ladies, these angels,or whatever they are to be called, is not, however, the author's principal aim....he has yet a higher point of view; nothing less than the utter extirpation of the Athanasian heresy of three gods". It turns out that the "Several Ladies" (there are twenty named in the "Table of the Lives" which, as this volume contains only the life of the first named Marinda Benlow, suggests that Amory intended another nineteen volumes) are all "zealous Unitarians, adepts in the Arian and Trinitarian controversies, and here set up as lights to lighten the benighted Athanasians, and reconduct them to the primitive path of Christianity". This anti-Trinitarianism is a running theme in Amory's work as is his obsession with clever women. In The Life of John Buncle esq (two volumes, 1756 and 1766), Amory create a young woman who has "the head of Aristotle, the heart of a primitive Christian, and the form of Venus de Medicis". Mrs Benlow fits this type: she is beautiful ("mouth like a rosebud", "fugitive dimple" etc) and, when Amory first meets her she is so absorbed in reading A Midsummer Night's Dream that she does not notice him. Amory comes across as eccentric, disordered even. Towards the end of his life he was described as having a "very peculiar look and aspect" and adopting a reclusive life only going out "like a bat, in the dusk of the evening". Bizarre book, bizarrer author.