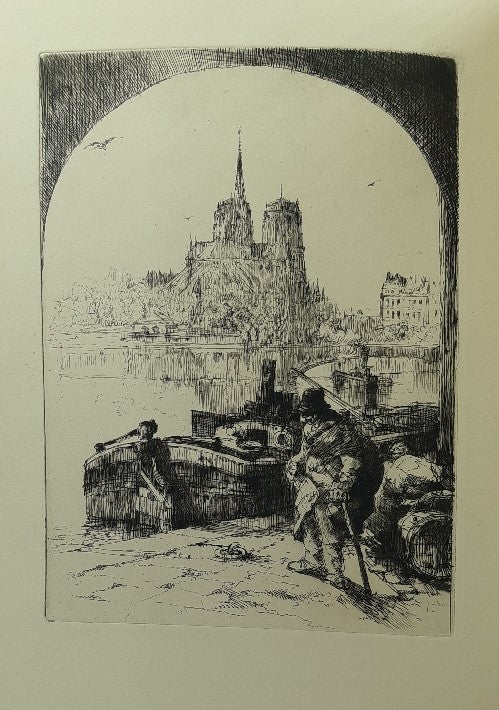 Vingt-neuf eaux-fortes originales de Auguste Brouet.
Paris: Societe Nouvelle des Editions d'Art Devambez.. 1931.

Limited edition, number 41 of 160 (41-200) printed on Velin d'Arches, with the definitive state of the etchings. 4to, 302x242mm. pp. [viii], 2, 128. The etchings are by Brouet of which there are nine reproduced as full-page plates and twenty in the text. Bound in before the half title is a leaf printed with the armorial bookplate of Dr Charles Carpenter initialled W.P.B and dated 1925. The book is bound by Hatchards in maroon half morocco and violet linen. The upper cover has three entwined "C"s in gilt at the foot by the joint and the lower cover has, in the same position, a magpie on a stump lettered "CCC", all in gilt. These all relate to Charles Carpenter for whom the book was bound. Spine has five raised bands, lettered in gilt. Top edge gilt. Slight rubbing to the joints and one of the raised bands is scuffed but overall in very good condition and internally it is fine.
Brouet's etchings are beautifully reproduced in this volume. He did much of his best work for Devambez and by this stage of his career, he was enjoying great success. Brouet's style was deliberately old-fashioned and he had a particular affinity for the naturalism and realism of Huysman's story telling. This collection of etchings captures perfectly the decadent cynicism of Huysman's 1876 semi-autobiographical novella about the disastrous relationship between a journalist and a prostitute.