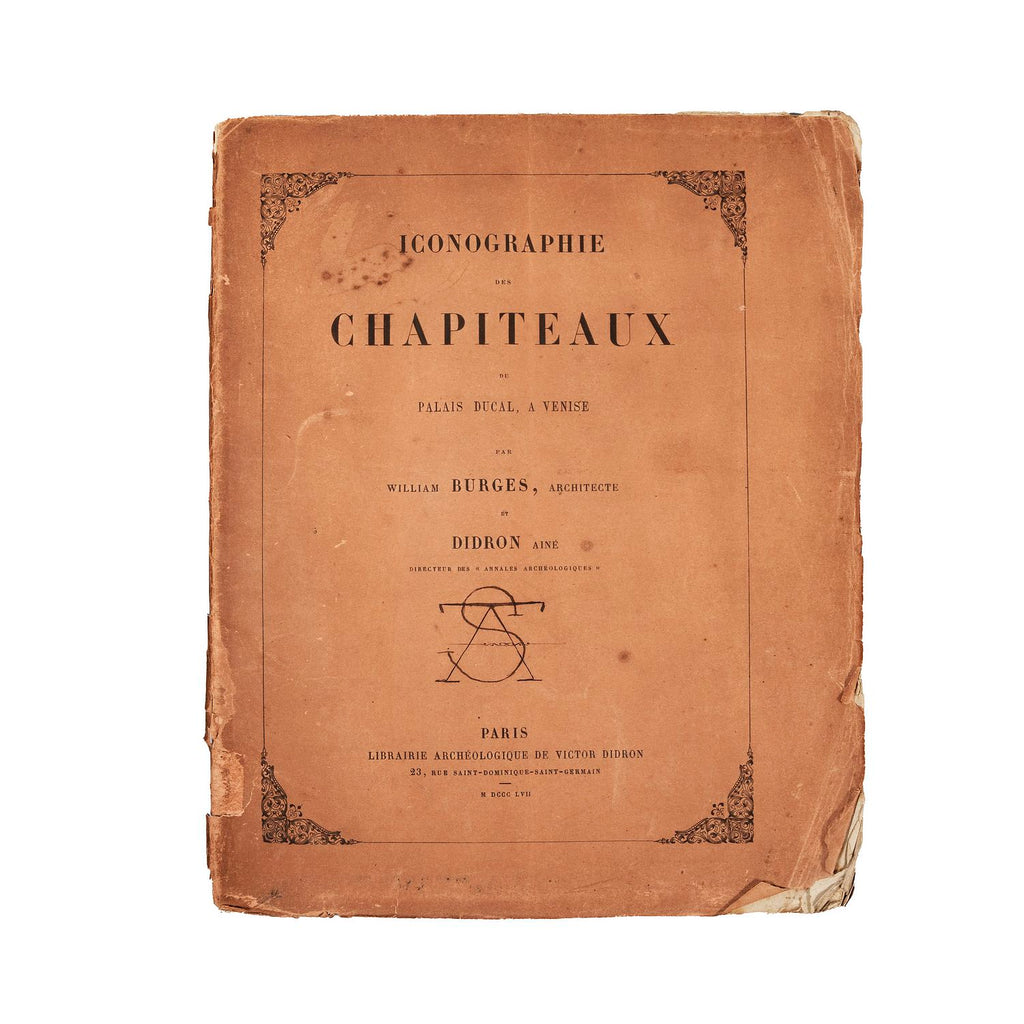 Paris: Librairie Archeologique de Victor Didron.. 1857.

First edition. 4to. 272x225mm. pp. 58 [2, advertisements]. Three leaves of engraved plates and a plan of the layout of the capitals of the Doge's Palace. Original brown paper wrappers, worn and chipped at extremities, tears to spine with some loss, staining to covers. Internally, there is foxing and spotting but overall it is in very good condition. Some pages unopened.
This is the first published book by William Burges, one of the most inventive architects and designers of the nineteenth century. The son of a rich engineer, Burges trained with Edward Blore (the surveyor to Westminster Abbey) and Matthew Wyatt who was Special Commissioner to the 1851 Great Exhibition. Burges worked closely with Wyatt in assessing designs and entries for the Exhibition, particularly for Pugin's hugely influential Medieval Court. This was to determine the course of Burges's career: from the early 1850s he travelled widely throughout Europe researching medieval art, artefacts and architecture. It was during a major tour beginning in 1853 that he carried out an extensive study of medieval secular buildings in Italy resulting in this book on the iconography of the capitals on the columns of the Doge's Palace in Venice. Burges's first love was the High Gothic of thirteenth-century France and fourteenth-century Italy and it is significant that his earliest published work should have been this important study of the meaning of the external decorations of perhaps the finest building in Venice. It is also significant that it was published by the Librairie Archeologique. This publishing house and bookshop had been founded in 1845 by Burges's co-author Adolphe-Napoleon Didron and was managed by his brother Victor. Didron was, like Burges, a serious student of the middle ages and, with Violet Le Duc, largely responsible for the nineteenth-century Gothic Revival in French art and architecture. His Librairie Archeologique played a vital role in evangelising for that Revival.
Burges believed that the impact and significance of a building lay less in its architectural mass and form than in its decoration. As a result, Burges was the most artistic of Victorian architects weaving wild, dreamlike Gothic fantasies into all his best work, most notably Cardiff Castle and the Tower House at Melbury Road. The capitals on the Doge's Palace, with their imagery drawn from the natural world, astrology, the Old Testament, and Christian theology all fed into Burges's later designs.
Brilliant though Burges was, he has been seen as outside the Victorian mainstream. 'Burges, with his roots in the past, designed nothing from which the future could benefit, his work embodies no architectural advances of any kind.' (Charles Handley-Read). High praise indeed.
Copac and Worldcat locate only six copies worldwide and it is rare in commerce not having appeared at auction since 1926.