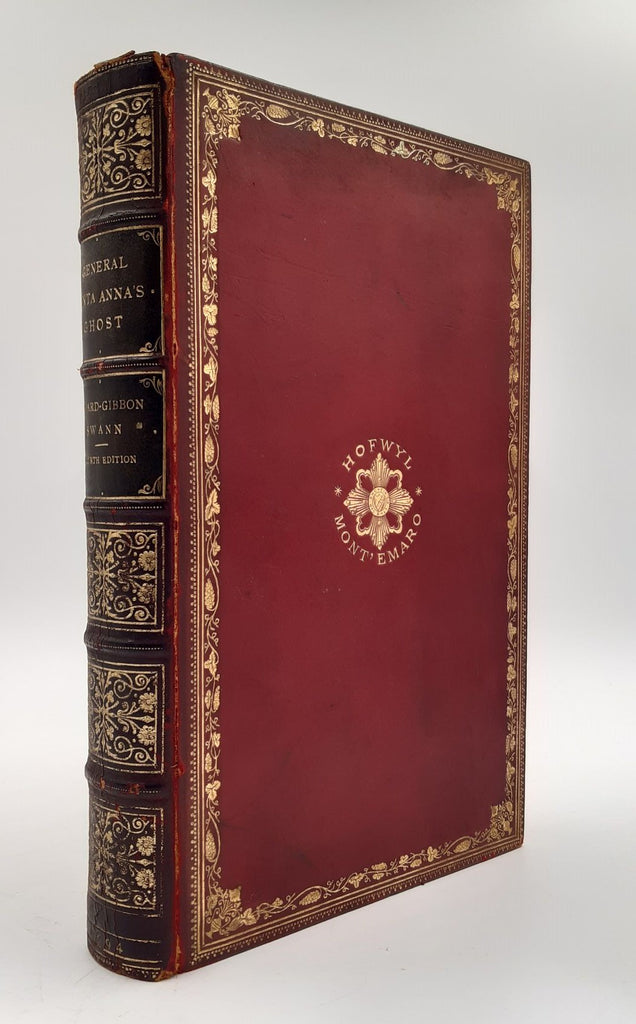 Burgess Hill, Sussex Charles N Blanchard. 1894.

Fourth edition (but actually first and only edition - Worldcat records only this edition, sixteen of them. Presumably Swann wanted readers to think that his work was so successful that it was frequently republished). 8vo. 210x135mm. pp. [iv], 426. Red calf, upper and lower boards decorated with gilt borders inside which is a roll tooled border with leaves, flowers and plants. Spine with five raised bands. Compartments lavishly decorated in gilt save for second and third compartments with green labels lettered in gilt. All edges gilt, marbled endpapers. Slight rubbing to the joints and to head and foot of spine but overall in very good condition and internally near fine. In the centre of the upper cover is a gilt floral cross design around which is stamped in gilt "Hofwyl" "Mont' Emaro". Hofwyl was the name of a set of Swiss technical schools one of which was attended by the author, Edward-Gibbon Swann and Mont'Emaro is referred to in the prologue (which contains a brief, breathless biography of the author) as a Division of the Piedmontese Army in which Swann fought. It seems therefore that this copy was bound for Swann and, indeed, the publisher and printer, Charles Blanchard, was also a bookbinder so it was probably bound by him.

As well as leading a cosmopolitan and adventurous life, Swann (who claimed to be the Grand-Nephew of the historian Edward Gibbon, hence his ludicrous double-barrelled Christian name) was a prolific writer, a magistrate and county cricketer, representing Kent. General Santa Anna is Antonio Lopez de Santa Anna, the central figure of nineteenth century post-independence Mexican politics. He was president of Mexico eleven times over a period of twenty two years; he commanded the Mexican troops at the Battle of the Alamo but ultimately lost Texas to America; he was married twice turning up to neither wedding but asking his father in law to stand proxy for him. Oh, and he was followed everywhere by a ghost. Which is the starting point for this bizarre, somewhat extravagantly produced book.