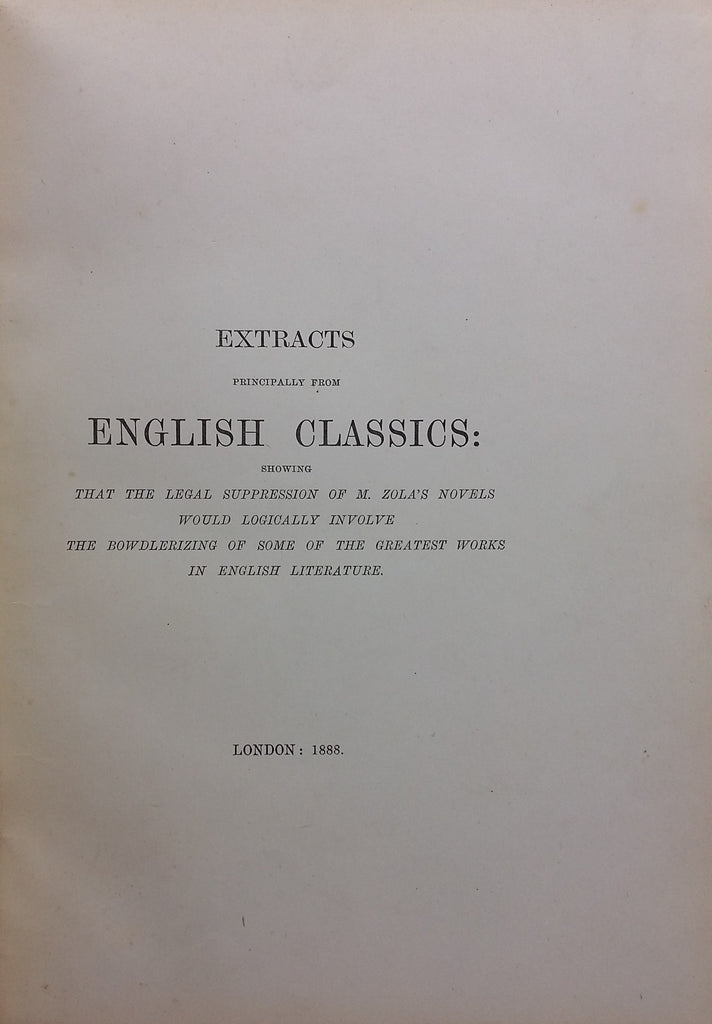 London [actually New York]: Max Harzof. 1888 [actually c1924].
Pirated edition. pp 87. 245x182mm. Rust marks in inner margin throughout, otherwise a clean and fresh copy. Grey/green paper boards and cloth spine, lightly rubbed, trace of label removed from upper board.
According to Thomas Seccombe in his DNB article, only twelve copies were published of this selection of passages from English literary classics intended to show that even the greatest works have "dirty bits". In fact, nineteen have been located. In 1924, a facsimile was published by Max Harzof in New York. It is thought that there are fewer copies of this than of the original. The publisher Henry Vizetelly began issuing English translations of Zola's novels and by 1888 had published thirteen titles. That of "The Soil" ("La Terre") proved too much for the authorities and in November 1888 he was brought to trial for "publishing an obscene libel". At the beginning of the trial Vizetelly issued these "Extracts", the twelve copies suggesting the rather naive belief that he might be allowed to provide each member of the jury with a copy. The prosecution, describing "La Terre" as "unrivalled for bestial obscenity", proposed to read out twenty one passages from the text, to the horror of the jury, who refused to listen to such filth. The following year Vizetelly chanced his hand again, reissuing expurgated versions, but he was again prosecuted and sentenced to three months imprisonment and fined £200. A rare item documenting the difficulties facing any publisher attempting to issue writings which dealt with sexual matters in Victorian England.