Experiments and Observations on the Atomic Theory and Electrical Phenomena
HIGGINS, William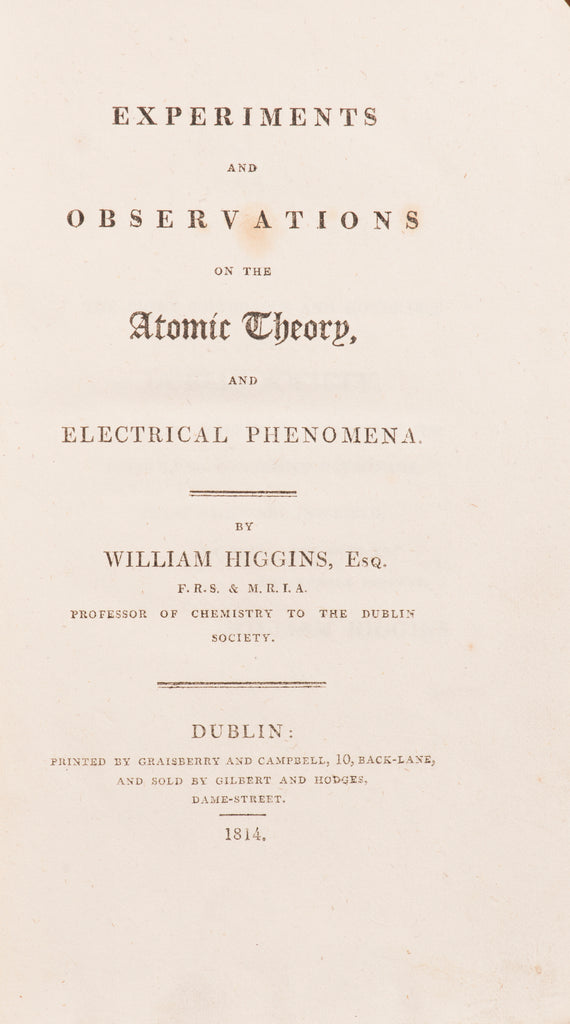 Dublin: Printed by Graisberry and Campbell. 1814.

First edition. 8vo. pp. [6], 180. Original grey-brown paper covered boards, rebacked, original paper label to spine (torn and missing left and right edges), lettered in black. Edges of boards slightly worn. Internally very good with some foxing in places, leaves uncut. Front free endpaper has ownership inscription of A.M. Perkins. Upper cover has a gift inscription (only partially legible) "To. Perkins Esqr, 7 Hereford [?] Street, Red Lion Square, London or [...] Regents Park. W.J [...ins] Compliments [.....] Dublin". Rare in commerce, the last copy appearing at auction in 1980.
William Higgins (1763-1825) was born in Ireland but moved to London in 1784 where his uncle Bryan Higgins was a doctor and chemist. Higgins then attended Oxford and although he left without a degree he worked as an assistant to the Professor of Chemistry and carried out his own experiments in the basement laboratory of the old Ashmolean Museum. In 1789, he published a ground-breaking work on combustion which, tangentially and incidentally, anticipated John Dalton's atomic theory. In 1792 Higgins returned to Ireland where he divided his time between a job as chemist to the Irish Linen Board advising on bleaching and dying and a position at the Royal Dublin Society where he was given freedom to carry out experiments in a laboratory equipped to his specifications. It was during these years that Higgins developed and crystallised his ideas on atomic theory leading to the publication of the present provocative book in 1814 in which he implied that John Dalton's 1808 work New Systems of Chemical Philosophy had plagiarised his experiments. Higgins was working and writing at a time of great activity and important developments in the field of atomic theory and his role and influence continues to be debated by scientists today.