Eiusque Familiarium, Epistolae Selectiores, Ad Viros Nobilissimos Clarissimosq[ue] datae, ac redditae.
RICHTERI, Georgii JC.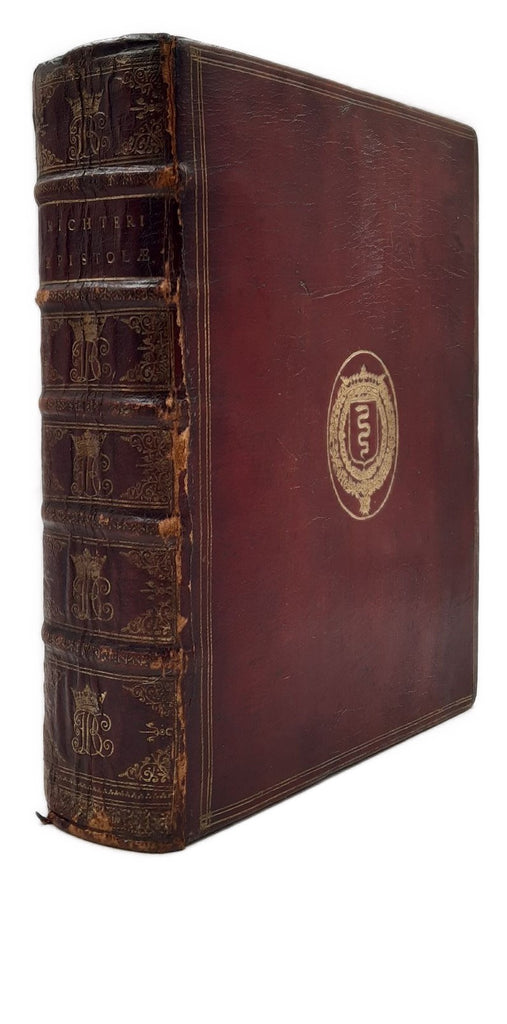 Accedunt I. Richteri Vita. II. Orationes Duae, De Arcanis aulae Iustinianeae: De Poetarum raritate, eiusq[ue] caussa. III. Mantissae Sex, Quarum prima Epistolas continet Casp. Hofmanni ad Varios; secunda Variorum ad Hofmannum; tertia Andr. Dinneri IC. ad Varios; quarta Variorum ad Dinnerum; quinta Variorum ad Varios; sexta deniq[ue] Iudicia septem. IV. Spicilegium Epistolarum Illustrium. Opus, quaesitis ac responsis Theologicis, Iuridicis, Politicis...Cum indicibys auctorum, rerum, verborum, copiosissimus.
Norimbergae [Nuremberg]: Michaelis Endteri. 1662.

Quarto, 190x152mm. pp. [26], 832, 68. Frontispiece portrait and engraved illustrated additional half title. Red morocco, gilt with the arms of Jean-Baptiste Colbert at the centre of the upper and lower covers, spine with five raised bands, compartments with crowned monogram "JBC". Colbert was Louis XIV's Minister of Finance and the creator of one the finest private libraries of the seventeenth century, containing about 23,000 books and over 5,000 manuscripts. Title page has inscription "Bibliotheca Colbertina". Front pastdown has armorial book-label of Harriman, Lecomte du Nouy. This is Mary Harriman, the widow of the scientist Pierre Lecomte du Nouy. Edges sprinkled red. Some rubbing to joints and to the foot of the spine, corners and edge of lower board bumped but otherwise a nice copy. Internally excellent with some browning and foxing and a worm track to leaf N2.
George Richter (1592-1651) was a lawyer from Nuremberg and later the Vice-Chancellor of Altdorf University. He corresponded with many of the leading intellectuals of the time and his letters provide a fascinating and detailed insight into the cultural life of seventeenth century Germany, an insight that Colbert would have found invaluable.