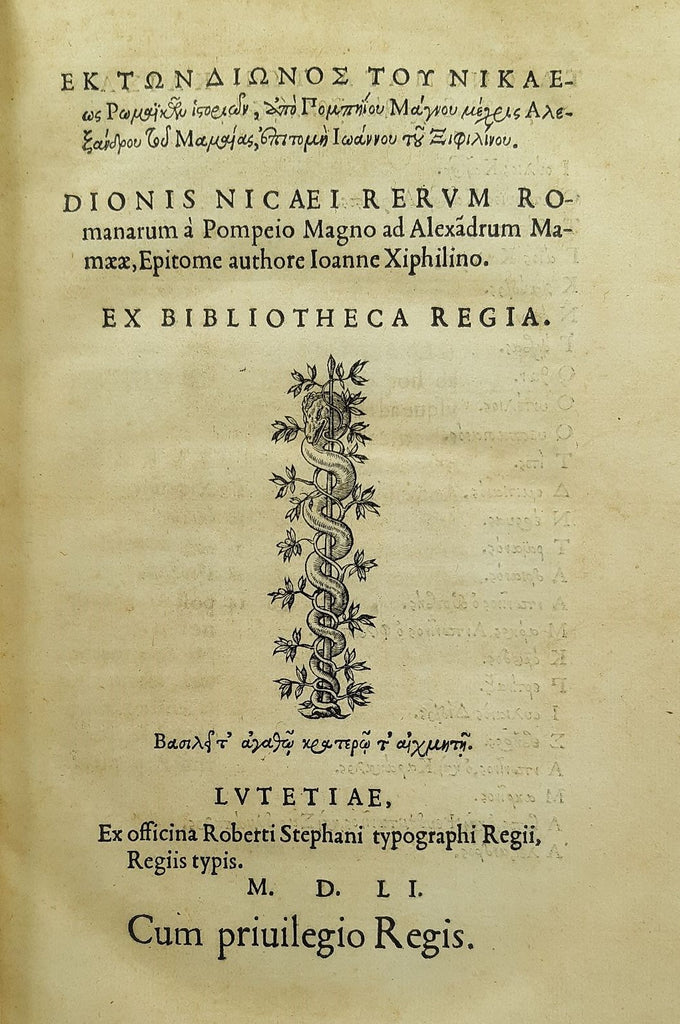 Lutetiae [Paris] Ex officina Roberti Stephani [Robert Estienne]. 1551.

First edition. 4to. 252x166mm. pp. 357, [3]. Red morocco, single fillet gilt border, spine lettered in gilt. Gauffered edges. Marbled endpapers. Verso of front free end paper has the book label of John Sparrow and a manuscript shelfmark and, in pencil (in Sparrow's hand) the inscription "The editio princeps from the Lamoignon Library". This was one of the great French libraries belonging to generations of the Lamoignon family of statesmen, lawyers and scholars with close connections to the French monarchy. Corners slightly worn, joints rubbed and hinges a little weak but overall a very good and internally excellent, a lovely crisp copy, beautifully printed. There are some marginal notes in pencil and loosely inserted is a handwritten note by a previous owner (S.Fuller) describing the book and also stating that "This was in Lamoignon's Collection at Payne's", a reference to the great sale in Paris of the collection in the early 1790s by the London bookseller Thomas Payne.
Joannes Xiphilinus was a monk and scholar who lived in Constantinople in second half of the eleventh century. His Epitome of Cassius Dio's Roman History has been described as "one of the more ambitious works of middle Byzantine historiography" and the major source book for the study of the Roman empire from the Julio-Claudians to the Severans, Dio's later books having been lost.
Dio was an important writer for the humanist "Printer to the King" Robert Estienne: it was for his 1548 editio princeps of Dio's Roman History that Estienne employed the engraver Claude Garamond to design a Greek type which was used again three years later in Xiphilin's Epitome. This confluence of classical and Byzantine scholarship and bibliographic innovation would certainly have appealed to John Sparrow.