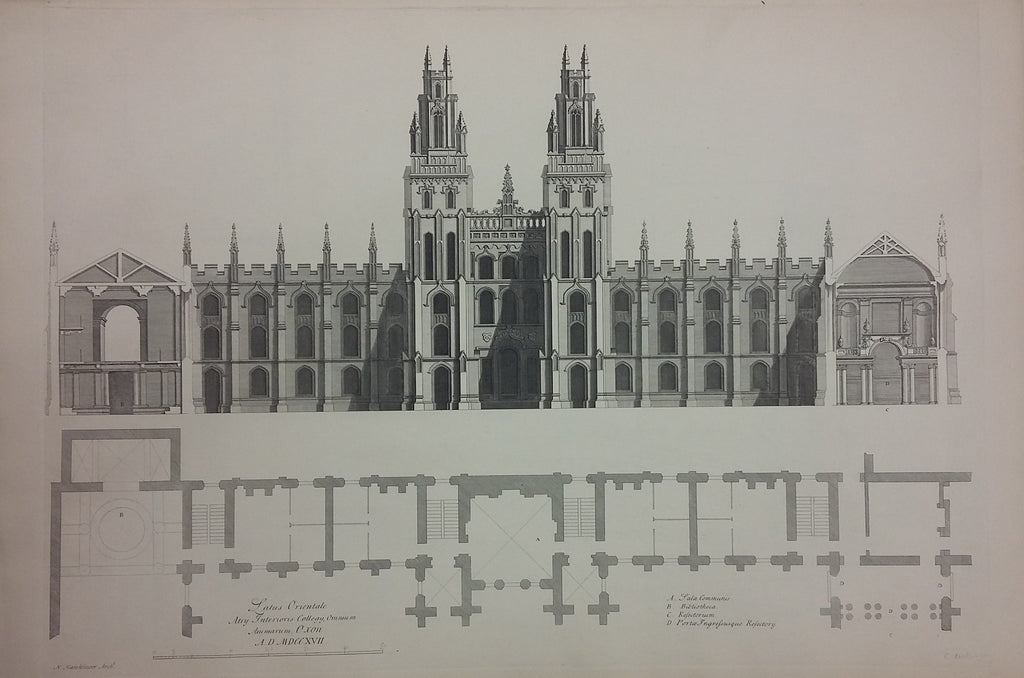 Oxford: Oxford University Press. 1960.

Portfolio case in navy blue cloth over stiff boards (530x800mm) containing 6 plates (505x755mm) being prints of Hawksmoor's designs for All Soul's College, Oxford. Title printed on grey card with navy blue lettering and decorative border and pasted onto the upper cover of the portfolio. A blue ribbon ties the upper and lower boards together. The prints, which are in excellent condition show:
1. General Plan (undated, engraved by M. Van der Gucht);
2. Elevation of the East Range (1717, engraved by C. DuBosc);
3. Chapel and Refectory, plan and elevation (1717, engraved by H. Hulsbergh);
4. Portico from Great Gate to Hall and Chapel, plan and elevation (1721);
5. Elevation of South Front (1721);
6. Cloister in North Court, plan and elevation (1721, engraved by M. van der Gucht).

Issued with the portfolio is a booklet, "Explanation of Designs for All Souls College, Oxford by Nicholas Hawksmoor" in grey card cover with title printed in red with printed decorative border, 248x155mm, pp.8. The booklet which is sewn at the spine, is in fine condition.

The blue portfolio case is in good condition but with bumping resulting in creases to the top left and bottom right. There is rubbing to the foot of the spine resulting in a slight tear. There is some weakness to the top flap attached to the lower board but the portfolio is complete and strong.

The booklet is a printing of Hawksmoor's letter of explanation, thought to be to George Clarke who endorsed it "Feb:17 1714/15 Mr Hawkesmoor explaining the drafts and designs for All Soules College". Two days after this letter of explanation, on 19th February, the College agreed "that the Library of Colonel Codrington should be built as the College Chapel was, according to the model that was then shown to the Society".
Hawksmoor was then asked, on 26th November 1716, "to make a draught of the new buildings as now designed to be built, and a cut of the said buildings to be shown to future Benefactors" and it is these cuts (engravings) that form this set. These prints, based on the drawings, follow, in general form, the designs set out in the earlier explanation. Two cuts were made in 1717, three in 1721 and one is undated.
Hawksmoor's "Explanation" is therefore a valuable document for piecing together the designs for All Souls, which were not fully executed in accordance with his intentions. It is also a fine example of Hawksmoor's sharp-tongued invective (he was not an easy man) against "brutall & Stupid" workmen and the shoddy manner of the rebuilding of London after the Great Fire, thus proving that the English tradition of ruining our towns and cities whilst purporting to rebuild, develop and improve them is a long one.