An Essay on a course of Liberal Education for Civil and Active Life
PRIESTLEY, Joseph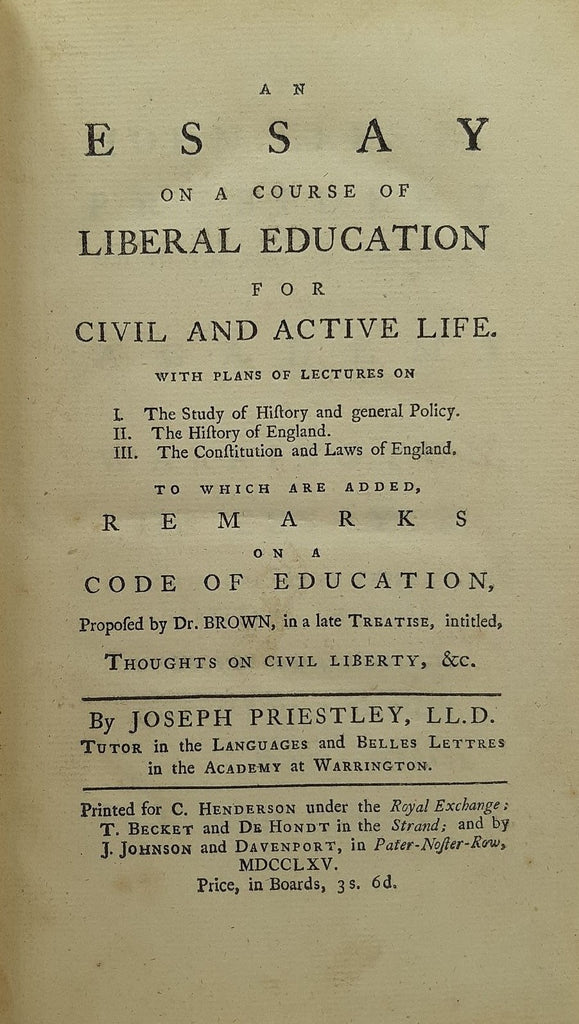 With plans of lectures on I. The Study of History and general Policy. II. The History of England. III. The Constitution and Laws of England. To which are added, remarks on a code of education, proposed by Dr. Brown, in a late treatise, intitled, Thoughts on civil liberty, &c.
[London]: Printed for C. Henderson. 1765.

First edition. 8vo. 203x120mm. pp. [4], iii, [1], 213, [11]. One engraved plate: "A Specimen of a Chart of Biography". Nineteenth century half calf, marbled paper covered boards. Front pastedown has book plate of The Queens' College, Cambridge and the stamp "Withdrawn from Queens' College Library, Cambridge and disposed of". Joint with upper board split but holding. Corners a little worn and some slight scuffing to spine and repair to head of spine. Internally very good and overall a nice copy of an early work in which Priestley argued that education should provide the useful, practical skills required for the young to become engaged members of society. So, classical languages, literature and history should disappear in favour of modern languages, mathematics, law and constitutional history. Thus a new class of aspiring bourgeois capitalists would be created and then entrenched given that the poor were to be excluded from this education. Priestley's set of syllabuses for history and law make fascinating reading and it is easy to see the appeal of his approach although it might be said to tend (avant la lettre) to the Gradgrindian. The work was a success: the year after its publication, the Warrington Academy to whom it was dedicated, replaced its classical curriculum with Priestley's "Course of Liberal Education".