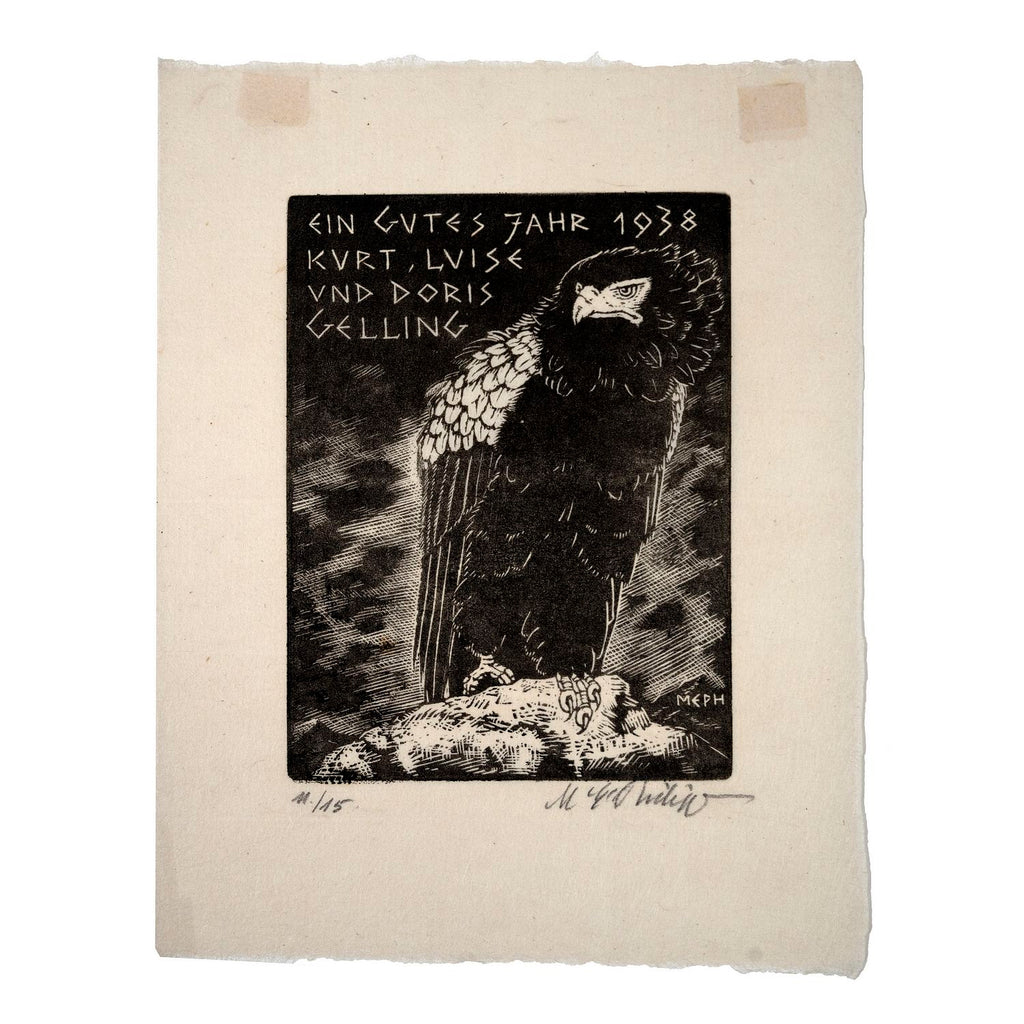 [Dresden] . Various.

An extensive collection of work by the Dresden artist M.E.Philipp who signed himself MEPH. 174 small prints mostly signed with varying small limitations. There is one engraved self portrait and one original sketch. The main collection of small prints falls into two broad categories. First is a set of 96 mounted bookplates made for various clients. 13 of these are in duplicate (or in a slightly different state) so there are 83 separate images. There are 4 unmounted duplicates. Second is a collection of 78 mounted prints for greetings cards, business cards, change of address cards, New Year wishes and wedding anniversary notices. 7 of these are in duplicate (or in slightly different states) and unmounted. There is an original sketch which is a study for one of the prints. The collection also includes an engraved self portrait by Philipp. The mounts were specially made for Philip and are printed, at the foot, "M.E.Philipp, Dresden". The prints are loosely mounted on card. The collection is mostly made up of etchings by Philipp but also includes colour woodcuts and copper engravings. They are all in excellent condition having been housed in two folders with their slipcases. Philipp's work ranges from Art Nouveau poster style, through the fine line of the Rococo to Beardsleyesque erotica. The collection belonged to Philipp himself. It was part of his own archive and represents his record of work done for clients over a long career. The collection was then passed to the great commissioner and collector of bookplates, Gianni Mantero who left it to his nephew.
Martin Philipp was born in 1887 and attended art college and the Art Academy in Dresden. Philipp's particular talent, noted by his teachers, was for small scale prints and drawings, especially of animals: Philipp spent much of his time as a student visiting the local zoo. Many of his prints contain charming and humorous studies of owls, emus, cats and especially monkeys which seemed to hold a special fascination for him. The original sketch in this collection is of a monkey. The cactus also makes an appearance - he was a keen collector and cultivator. And there are landscapes, portraits and domestic scenes: the range of subject matter is wide. Philipp's work, at first glance, seems modest and somewhat minor key, which is often the case with small scale engravings and woodcuts and, after all, a lot of these prints in this collection are greetings cards (particularly for New Year) or address notices so are intended for wholesome family consumption. But there is another side to Philipp which found expression in many of his bookplates. It is as a designer of Ex Libris that he is perhaps now best known and here he could indulge the private passions of his bookish clients. There is much erotica on display here from the fairly gentle to rather fruity. It is thought that he produced about 130 bookplates so this collection of 83 prints represents a sizeable proportion of the whole. Philipp clearly enjoyed the somewhat esoteric world of the Ex Libris with its obsessive collectors and their tendency to swap plates with each other as stamp collectors do. One of Philipp's clients was Gianni Mantero.