A Comedy of Terence called Andria.
TERENCE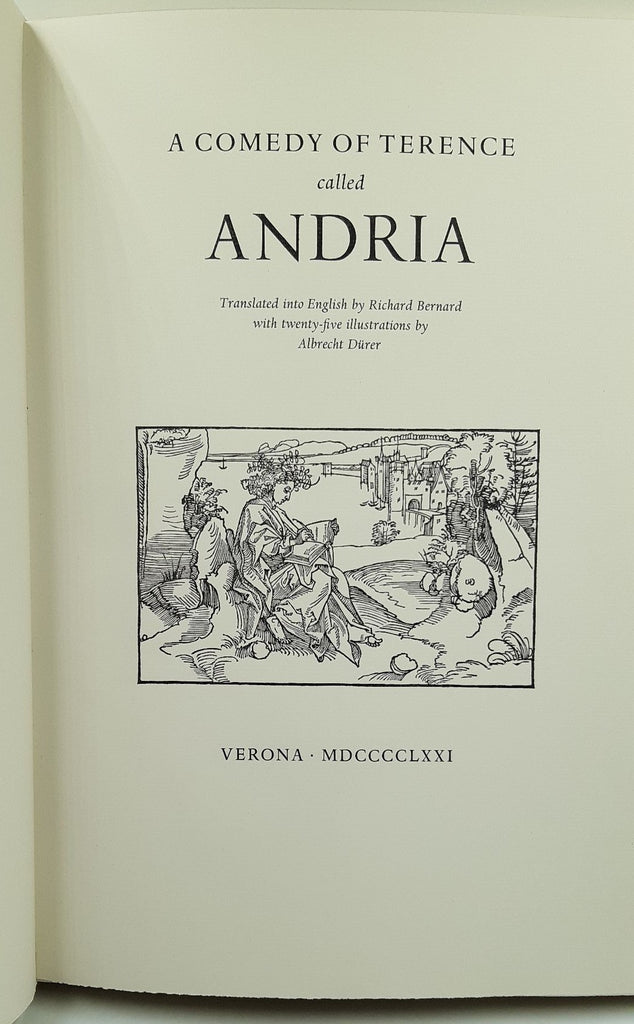 Verona: Officina Bodoni. 1971.

First Bodoni edition, one of ten copies for printed "ad personam", this copy with the presentation: "This copy has been printed for David Earl of Crawford". A further 160 numbered copies were also issued. Folio, 345x250mm. pp. 121, [1bl], 1 colophon. Original quarter vellum, spine lettered in gilt with the Bodoni device in gilt on upper cover. With plastic wrapper, housed in a custom green cloth slipcase. Woodcut illustrations by Fritz Kredel after Albrecht Dürer. A fine copy. David Lindsay, 28th Earl of Crawford and 11th Earl of Balcarres (1900-1975), served as chairman of the National Trust from 1945 to 1965, alongside serving as trustee of the Tate and National Galleries, the British Museum, and the National Library of Scotland.
Dürer's illustrations for Andria were made in Basel around 1492 for a planned edition of Terence, but the woodblocks were never cut. For this Bodoni edition, the original drawings were copied onto new blocks by Fritz Kredel from the original drawings, preserved in the Kunstmueseum of Basel. The accompanying text, translated by Richard Bernard, is printed in Dante type. A very attractive example of fine book production, from the celebrated Bodoni press.