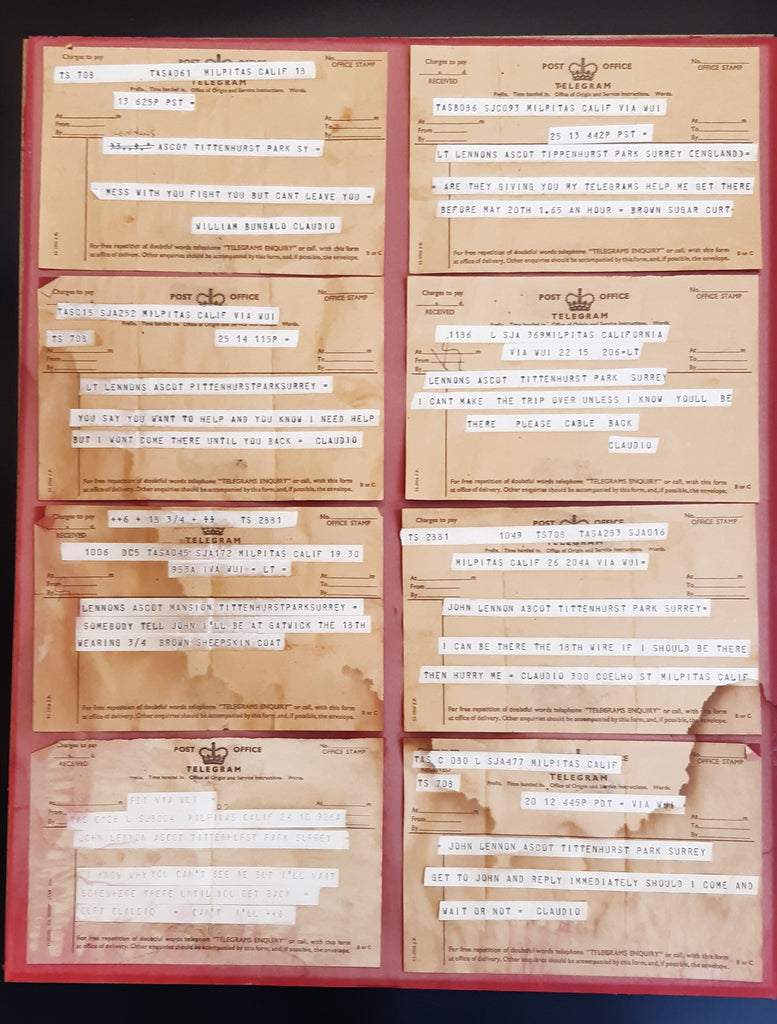 1971.

Eight telegrams from Curt Claudio in America to John Lennon at Tittenhurst Park, Ascot. The telegrams are pasted as a group onto red card and framed. Most are in good condition although two are water stained and two others have some staining to the edges but all eight are clear and legible. They are part of a strange and fascinating story.
In May 1971, a young man from California was found in the grounds of John Lennon's house, Tittenhurst Park, Ascot. His name was Curt Claudio and he had been sleeping in the garden for a few days. Before flying to England, he had sent numerous letters and telegrams to Lennon. He felt that he had a special connection to Lennon and the Beatles and that Lennon's songs were intentionally directed at him. He was obsessed with Lennon.
These telegrams sent in the weeks and months before Claudio's appearance in Ascot are addressed variously to Tittenhurst, Tippenhurst and Pittenhurst and Claudio's address is given as 300 Coelho St, Milpitas, California. We have been unable to find any others and it seems that these are the only surviving telegrams from this episode.
They are a strange and disturbing mixture of fantasy and desperation. One reads "Mess with you, fight with you, but can't leave you" [signed], "William Bungalo Claudio". This is reference to the Beatles song "The Continuing Story of Bungalow Bill" and confirms Claudio's feeling that Lennon's songs were somehow addressed to him.
One telegram references drug slang: "Help me get there before May 20th 1.65 an hour = Brown Sugar Curt".
"You say you want to help and you know I need help but I won't come there until you back". He seems to regard Lennon as a kind of saviour.
Eventually, Claudio makes the decision to come to England: "Somebody tell John I'll be at Gatwick the 18th wearing ¾ length brown sheepskin coat".
There is a piece of film from 1971 showing a young man wearing a ¾ length brown sheepskin coat talking to Lennon and Yoko Ono outside Tittenhurst. He had been found in the garden and Lennon explains how he writes about his own life and experiences and does not address his songs to particular people (unless it is a love song to Yoko). We see him treating the fragile and damaged Claudio with kindness, gently explaining that he is not writing his songs to him. Eventually, he invites the hungry Claudio into his kitchen where they eat together.
This episode is shown and given some additional context in a 2018 film John and Yoko: Above us only Sky telling the story of Lennon's album Imagine (he was working on it when Claudio visited him). It was originally thought that Claudio was a Vietnam vet suffering shellshock although that is now discounted. It seems that he was from an educated family of musicians but that he had dropped out of college. Lennon mentions in the film that they had received a large number of telegrams from someone in California desperate to meet him. Yoko Ono said of Claudio: "He was no dummy. He was a spiritual person. Claudio was communicating to John on a high level. We know he was a spirit and that's why John invited him in to have lunch with us. The food did it, though. It calmed him down. I don't think we heard from him again after that".
A November 2021 film called What Happened to Claudio tells the story in more detail and traces what happened to Claudio since that meeting with Lennon. These moving telegrams provide fascinating documentary evidence and background to a peculiar moment in Lennon's life and career.

Provenance: Recovered from Tittenhurst Park when Lennon moved out and bought by Simon Finch at the Sotheby's Rock n' Roll Memorabilia Sale. c1988.