The Critic, Or A Tragedy Rehearsed. A Dramatic Piece in three Acts as it is performed at the Theatre Royal in Drury Lane.
SHERIDAN, Richard Brinsley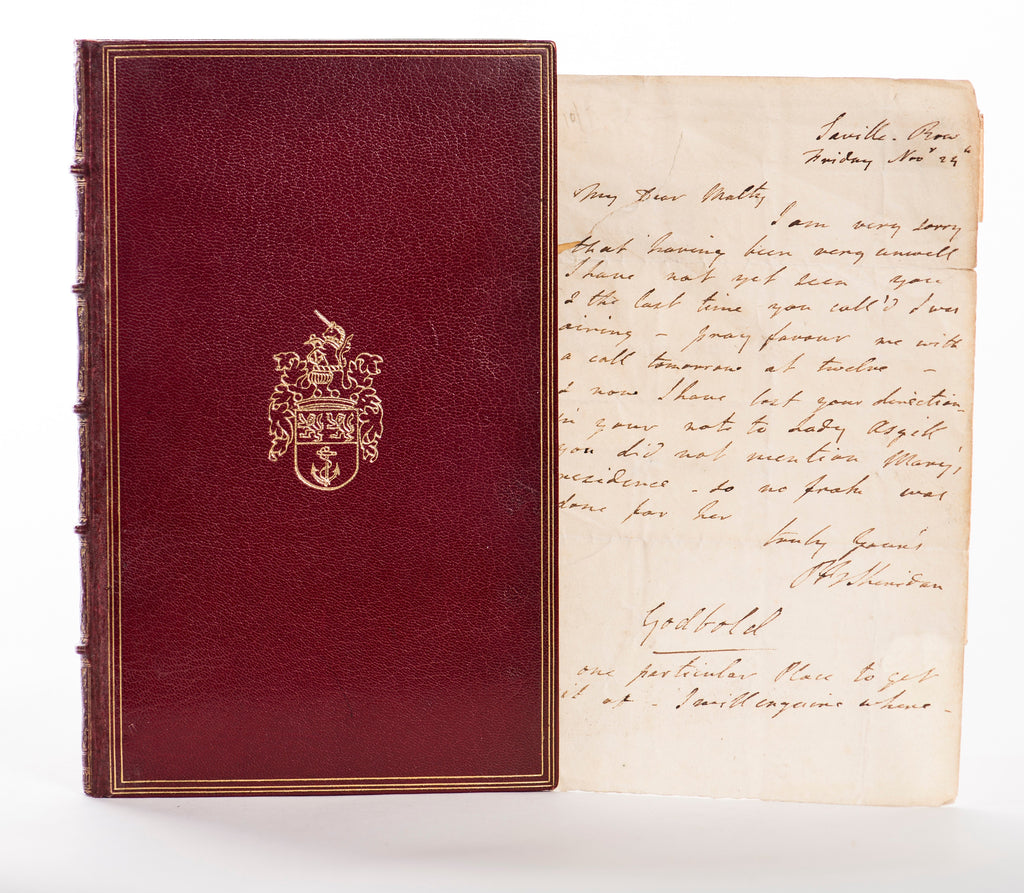 London: Printed for T. Becket. 1781.

8vo (204x128mm). pp. [3 bl.], title, vi, 98, [3 bl.]. 19th Century red morocco gilt by Riviere and Son. Coat of arms of Lord Kennet in gilt on the covers. Armorial bookplate of Kennet of the Dene. Joints recently repaired. ALS, loosely inserted, from Sheridan dated Friday November 24th (no year) addressed to Mrs N. Ogle. In addition, there are three letters from H. Clifford Maggs of Maggs and Co. to Lord Kennet about the nature of a true first edition of The Critic. Loosely inserted also is a catalogue entry for a true first edition and a typed copy of T.J.Wise's bibliographical description of The Critic: "Although so-called "First Editions" of The Critic are constantly making their appearance in the catalogues of auctioneers and booksellers, the actual princeps is a volume of higher rarity than is generally understood". (T.J.Wise) Despite the handwritten pencil notes on the verso of the front free endpaper attempting to claim this as a true first edition, it seems clear that it is not. It lacks a half-title and the leaf of advertisements. The Critic was reprinted several times, each later issue being the same as the first edition, save for the half title which showed the edition. Where no half-title is present (as here) this may mean nothing more than a later rebinding (as here) and the loss of the half-title. All this is explained in greater detail in the letters from Maggs with their attachments. The best we can say here is that the present copy is an early edition but which one is uncertain.
The letter from Sheridan was sent from his address in Savile Row to Mrs N. Ogle of 14 Mill St, Conduit Street. The greeting is "My Dear Malty". Sheridan's second wife (they married in 1795) was the daughter of Newton Ogle so is possible that this letter is to his then or future mother-in-law but as Newton was successively a Prebend of Durham Cathedral and Dean of Winchester, it is more likely to be to the wife of a Nathaniel Ogle (the nephew of Newton, although we cannot be certain as Nathaniel seems to have been a popular Ogle name). The letter refers to an illness ("having been very unwell") that prevented Sheridan from visiting. The letter also mentions some other social arrangements and names Lady Asgill who (depending on the date of this letter) is either the mother or wife of Sir Charles Asgill, the celebrated British officer who had fought in the American Revolutionary War and who, in 1788 became an equerry to Frederick Duke of York. In 1790 he married Sophia Ogle who then became Lady Asgill. Sheridan's second wife and Asgill's wife were first cousins.
The letter ends with a postscript note from Sheridan: "Godbold. One particular place to get it at". The cover of the letter (when folded over and sealed) has a further note: "Bloomsbury Square for Godbold. RBS". Godbold's Vegetable Balsam was a medicine concocted by Nathaniel Godbold in 1785 (which provides some clue as to the date of this letter). Godbold was originally a gingerbread baker, but his Balsam became one of the best-selling patent medicines of the 18th century for syphilis and various other maladies. As this letter shows, it was clearly something of a household name in even the best households.