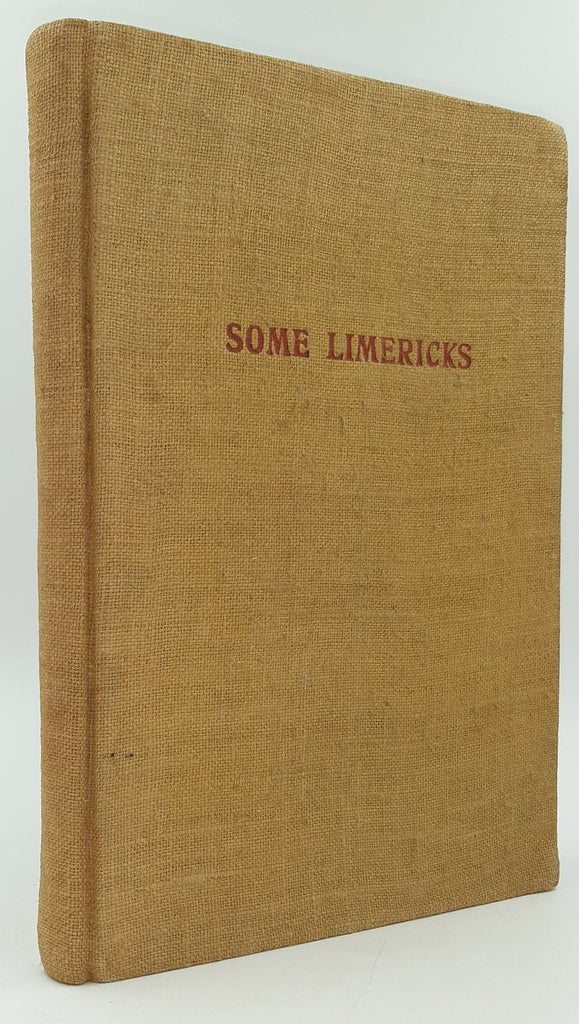 [Florence]: Privately Printed [Orioli]. 1928.

First edition issued to subscribers only. Limited to 110 copies of which this is number 110. Royal 8vo. 250x165mm. pp.97, [1bl]. Original yellow/gold rough canvas with title stamped in red on upper cover. Corners slightly bumped and light soiling on the covers. Internally very good with some slight marking in places. Overall a very nice copy.
Some Limericks has long been a popular work, famous for its obscene verse and clever, amusing mock-scholarly apparatus. It has appeared in a number of pirated editions. The publisher, Pino Orioli, was a bookseller in Florence where Douglas lived for a number of years. It was a brave decision of Douglas to have it published in 1928 although, of course, Douglas was not averse to taking risks and lived much of his life on a precarious knife-edge. Even today, some of these limericks are strong stuff. Utter filth in many cases. But here is a comparatively gentle one to warm you up:

There was a young student of John's
Who wanted to bugger the swans,
But the loyal hall-porter
Said: "Pray take my daughter!
The birds are reserved for the dons".