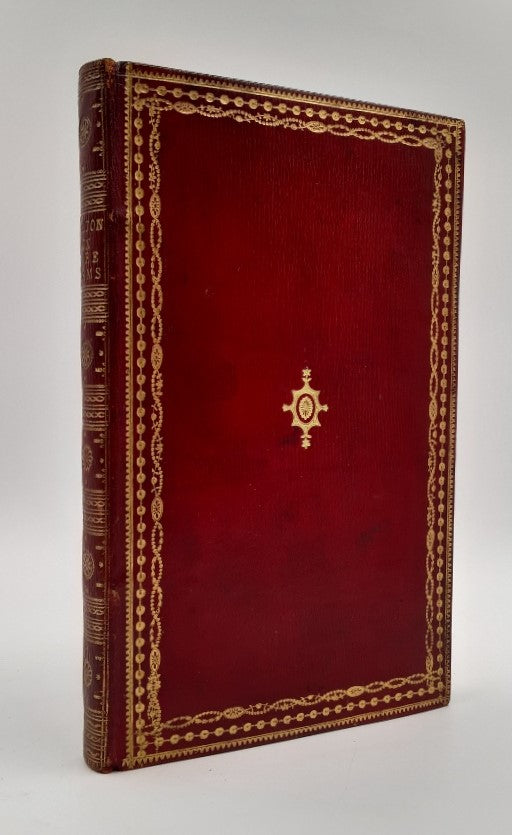 shewing The Danger to those who carry them: together with an explanation of a newly invented Patent Gun-Lock, of which All the present Disadvantages are removed, and Simplicity, Security, and Durability substituted.
London: Printed for the author by T. Egerton. 1795.

First edition. 8vo in 4s. (208x130mm). pp. [2], xxv, 3-88. K4 blank. Loosely inserted is a letter of 1993 from the Bodleian Library confirming that K4 in their copy is blank and setting out the full collation, this copy conforming to that. Contemporary red full grain morocco in fine condition. Decorative gilt borders to the upper and lower covers. Spine lavishly decorated in gilt, Greek-key design turn-ins. All edges gilt. Very slight rubbing at the head and foot of the spine. Marble endpapers. A very handsome binding. Internally near fine with only minimal spotting in places. Front pastedown has the royal armorial bookplate of "E D C". This is Ernest Augustus, Duke of Cumberland, later King of Hanover, one of the sons of George III. He was created Duke of Cumberland in 1799 and this book would have been bound for him at about that time. ESTC records copies in the BL, Bodleian and The Codrington Library together with five copies in the US.
Sir George Bolton was intended for a career in the army but instead spent much of his working life as the tutor to the daughters of George III, teaching them writing, geography and arithmetic. Alongside this tutoring of the sisters of the former owner of this book, Bolton worked on improving the musket gun-lock. Until Bolton designed his lock, the safety mechanism on both military and sporting firearms was so poor that accidents were frequently caused by guns going off at half-cock. Bolton's self-acting and detachable bolting lock was made by mathematical instrument makers rather than gun makers who were, apparently, disinclined to follows his designs. It revolutionised gun safety. The lock was patented in 1795, the year of the publication of this book. In 1799, Bolton left Great Britain for his wife's family estates in the St Vincent, West Indies which had been damaged by a slave insurrection in, coincidentally, 1795. It seems almost certain that Bolton, as he left England for the Caribbean, gave this copy to Ernest Augustus who then had it bound and his bookplate pasted in.