Poems written between the years 1768 & 1794, by Philip Freneau, of New Jersey
FRENEAU, Philip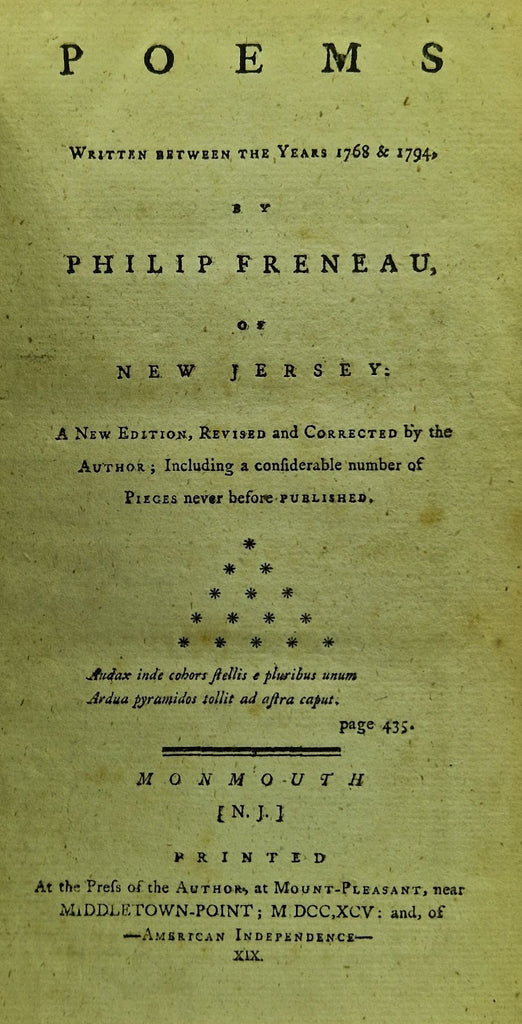 Monmouth (N.J.): Printed at the press of the author, at Mount-Pleasant, near Middletown-Point. 1795.

Third edition. 8vo. 205x120mm. pp. xv, [1], 455 [1, errata]. Bound without final two blank leaves. Contemporary tree calf, rebacked, red morocco label lettered in gilt. Slight rubbing to edges and wear to corners. Foxing and browning (as usual for this edition of Freneau's work) but overall a nice copy of the expanded edition of the poems of "The Poet of the American Revolution". Front pastedown has the label of Christopher Clark Geest and the front free endpaper the library stamp of J.H.Hunt M.D.
Philip Freneau (1752-1832) is regarded as one of the fathers of American Romanticism and his use of dark, Gothic themes marks him as an influence on Poe. He was important for the development of the Transcendentalist and Primitivist movements in American literature. Before establishing himself as a poet, Freneau had been involved with the cause of American independence, fighting for the Union and producing a large amount of anti-British propaganda. He lived for a time in the West Indies and was also a strong opponent of slavery. Among his friends and supporters were James Madison and Thomas Jefferson. Freneau is a fascinating figure in whom many important strands of American cultural life merge.