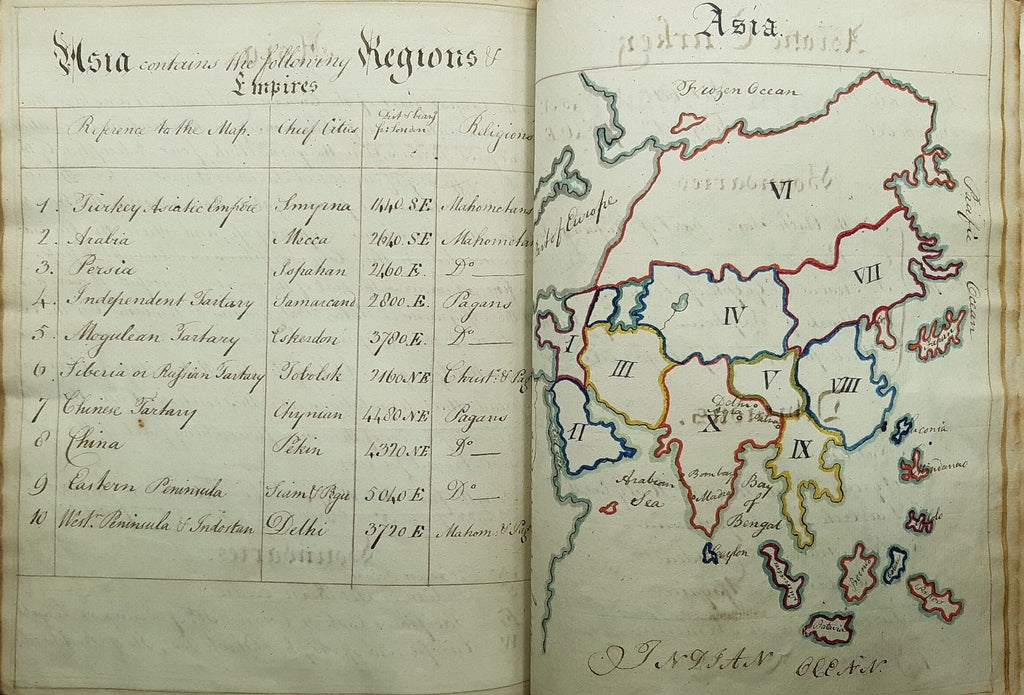 n.p. n.d [mid-late 18th century].

An album of hand-drawn maps with handwritten notes in an attractive italic. 230x180mm. Unpaginated, 137 pages of maps (84 maps) and text: pp. 89, 24bl, 48 (including 4 blank pages), 14bl. The maps are beautifully drawn in pen and ink with borders in coloured ink and watercolour. Tan half calf, rebacked and corners repaired, eighteenth-century marbled paper covered boards. Raised bands, burgundy morocco label lettered in gilt "Maps J:R". Some scuffing and staining to the boards. A repair tear to the first page of text but otherwise in very good condition throughout. The author is unidentified and, possibly, unidentifiable but the main section on England is based on Thomas Badeslade's Chorographia Britannia of 1741 originally intended as a pocket atlas for George I. The maps are: forty county maps of England, one map of England showing all the counties and one showing the main coastal areas, two maps showing North and South Wales, seventeen European maps (in which Scotland, interestingly, is included) and three maps of places in Asia.
The first eighty-nine pages are devoted to England. There is a map of each county and, on the facing page, information about the county in varying degrees of detail. In almost all cases the major towns and cities and the number of MPs sent to Parliament are listed but for some counties geographic, architectural and historic features are included. Oxfordshire and Cambridgeshire have a list of the University colleges and their date of foundation. The section on Europe shows the regions of the major nations and lists the major rivers, mountains and volcanoes. There is a map showing the whole of Asia much of which is described as Tartary and Asiatic Turkey and Indostan are given separate, more detailed maps. This is a highly attractive book, lovingly created.