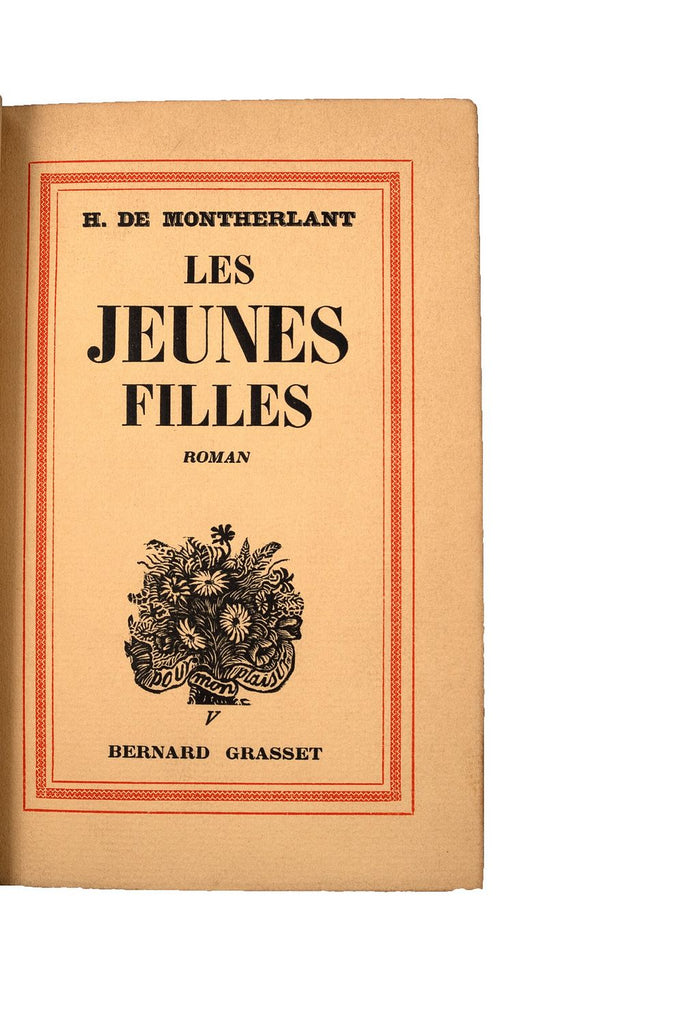 Paris: Bernard Grasset. 1936-1939.

First editions. Four volumes. 8vo, 182x115mm. Les Jeunes Filles : pp, 297, [3]; Pitié pour les femmes. pp. 286, [2]; Le Démon du Bien: pp. 281, [3]; Les Lèpreuses: pp. 332, [2]. Original wrappers bound into near contemporary red half morocco, marble covered boards. Four raised bands, spine lettered in gilt, top edges gilt, marbled endpapers. Some very minor rubbing to spine but otherwise a near fine set. Internally fine. Les Jeunes Filles and Pitié pour les femmes are exemplaires de presse (review copies).
Cyril Connolly in The Modern Movement: 100 Key Books from England, France and America 1880-1950 writes that "these four brilliant novels in which the narrator is a typical cad-artist of the between-war vintage, are written in Montherlant's pellucid and crisp style". The cycle records the attempt of the free-spirited protagonist Costals (a writer) to avoid the advances of two women keen on marriage. Widely regarded as a work of startling misogyny there is actually more nuance at work here than we might at first think. Simone de Beauvoir, although highly critical of Montherlant, did concede that there were elements of his misogyny that might be of use to women: "We should congratulate Montherlant for demystifying the eternal woman, because it is by rejecting the idea of womanhood that women can finally assert themselves as human beings." Montherlant was a more subtle writer than many have been prepared to admit. He was, though, undoubtedly a misogynist but that was because he was a misanthrope - he made little distinction between the sexes. Costals emerges from Les Jeunes Filles as a venal bully (an egotistical erotomane is one description) before whom many people, not just young women, would become simpering wrecks. Costals is a modernist anti-hero in a novel written with modernist élan. Stefan Zweig regarded Les Jeunes Filles as one of most important novels of its time. We might describe it now as "problematic" which, of course, makes it interesting and worthwhile. Montherlant himself sounds like an acquired taste too but that will depend on your taste for Nietzschian, pederastic fascists.