Design for a Chimney Piece for the Earl of Panmure
ADAM, Robert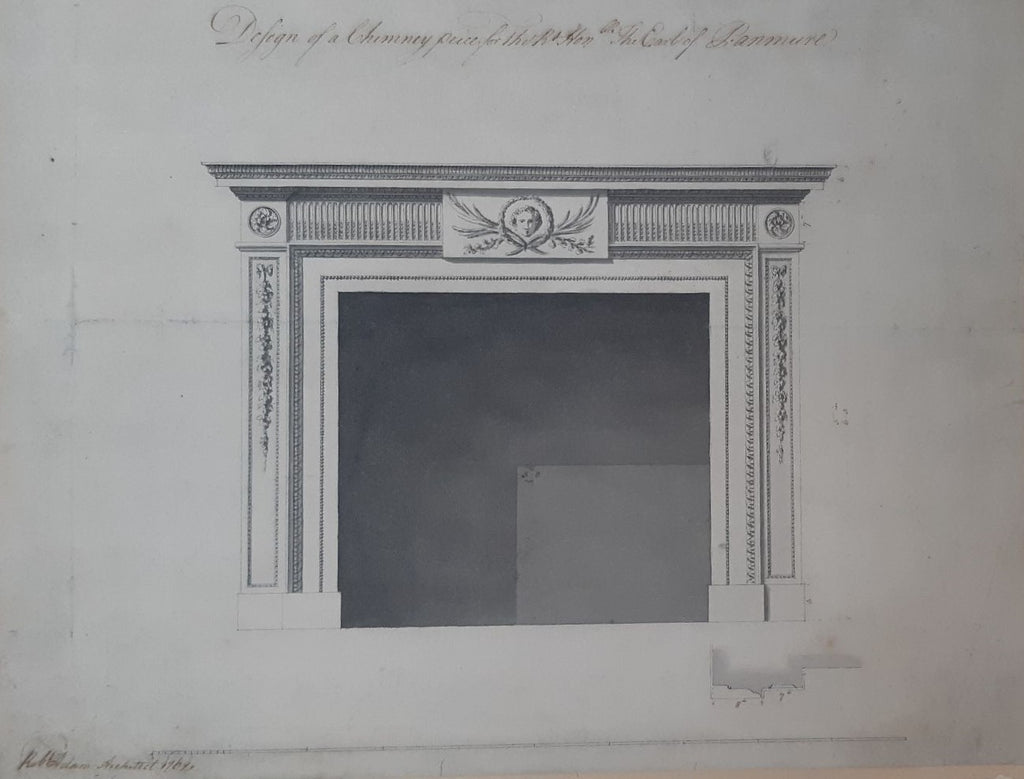 n.p. 1762.

Original architectural drawing by Robert Adam: design, apparently unexecuted, for a chimneypiece. Drawn in pen and black ink with grey wash on cotton paper. 446x364mm.The drawing shows a part of the plan and the full elevation. Stiles ornamented with drops of foliage hung from bows. Frieze ornamented with fluting decorated with calyces with a central tablet decorated with a mask surrounded by a wreath. Enclosed rosettes in the capitals.
At the lower left corner is inscribed "Robt Adam Architect 1762". Above the drawing is written "Design of a Chimney peice (sic) for The Right Honble The Earl of Panmure". Scale, dimensions and some measurements are also inscribed. Some soiling to the paper caused by earlier repair work. There has been recent, expert restoration to the margins. As so many of Adam's drawings are held institutionally, it is rare for them to become commercially available.
Robert Adam is so associated with the eighteenth-century classical revival in art, design and architecture that he almost floats free of its constraints, giving his name to a style that transcends the strict academic purity of the classical manner. His light, decorative brilliance is evident in this charming chimneypiece designed for William Maule, the Earl Panmure (he is either the fifth Earl of Panmure or the first Earl Panmure (omitting the "of") - the title was forfeited in 1716 then revived for the same family in 1743). William was brought up in France where the family were in exile for their part in the failed Jacobite rebellion of 1715. He returned to Scotland in 1719 where he pursued a successful career as a soldier and politician. He also set about reacquiring family properties and estates, culminating with the purchase of Panmure House in 1764. Demolished in 1955 ("one of the greatest acts of officially-sanctioned vandalism of its type in Scotland"), Panmure was regarded as one of the finest houses in Scotland and was included by Robert Adam's father, William, in his Vitruvius Scoticus.
On purchasing Panmure, the Earl commissioned Robert Adam to redesign the stables and the west front of the house. This drawing of the chimneypiece predates the Earl's acquisition and so it is possible that it was designed for another house (he owned Braikie Castle, Brechin Castle and an Edinburgh townhouse, also called Panmure House). Or it could be that Adam was simply experimenting with designs for his distinguished client in the knowledge that he was considering buying back the family's principal house and estate. There is another, much smaller, unsigned drawing of this chimneypiece in the Soane Museum (where most of Adam's drawings are held). This Soane drawing is attributed by the museum to Agostino Brunias, whom Adam met in Rome and who followed him back to Britain working for four years in his office. That there are two drawings of the same design, one by the master and one by an assistant suggests that this was part of a major project for an important client, making this a particularly interesting work by Adam.