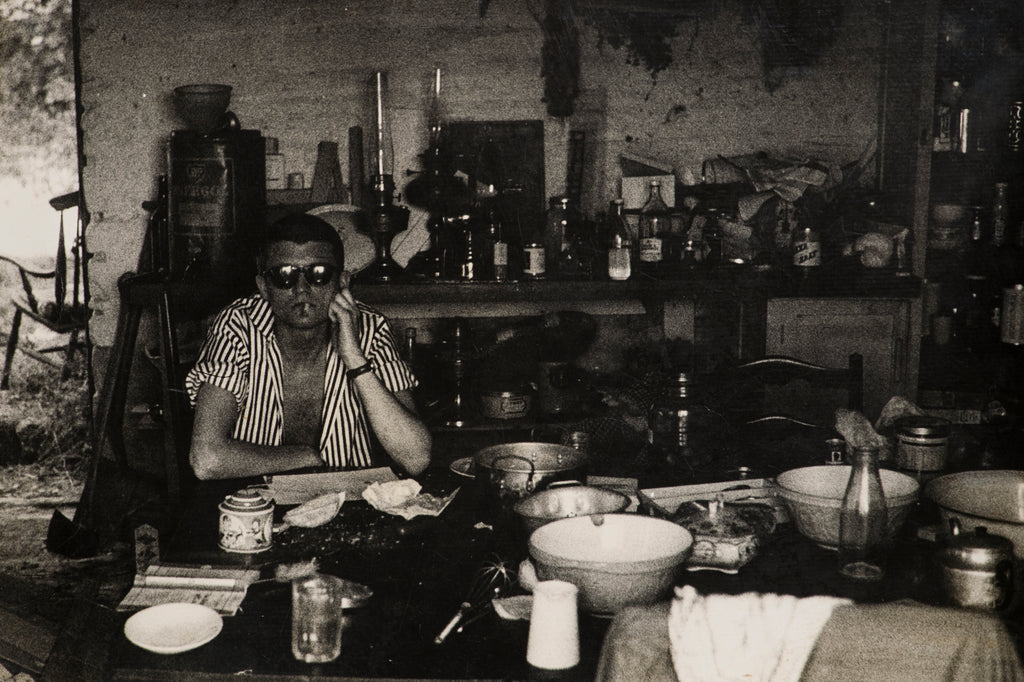 n.p. n.p.. 1960/61.

A collection of black and white photographs and a print, all made by the artist and automata maker Ron Fuller.
23 unmounted photographs approximately 375x250mm.
22 photographs approximately 500 x 350mm, 17 of them mounted on black card (approx. 500x380mm)
2 unmounted photographs approximately 248x168mm
2 albums (300x205mm) entitled The Nailsworth Album (I) and (II). Each has 28 photographs mounted on 17 leaves.
The photographs record two events taking place in 1960 and 1961 which brought together a collection of young artists – many of them still students at the Royal College of Art. They capture a lost world, an innocent pastoral arcadia of isolated cottages, overgrown woods and "The sense that, beyond the town/ There would always be fields and farms".
The first is the Nailsworth Summer Fete recorded in the two albums and a few of the loose photographs. The artists John and Astrid Furnivall were living in a cottage (without electricity or running water) in the hills outside this Cotswold town. John had not long graduated from the RCA and was teaching at Cheltenham and Stroud Art Schools. Among the friends who joined them was David Hockney, almost unrecognizable with close cropped dark hair (he was yet to discover the peroxide bottle). Hockney features in a number of photographs – in a skittle alley cheering on one of the players and driving a steam roller (seriously!) while two show him in more familiar pose with downturned mouth from which a cigarette dangles.
The second event is the wedding of Mike and Maggie Adams in Cornwall in 1961. Mike Adams was part of a group of artists from the RCA including Ron Fuller and Richard Bawden. They were renting a cottage at the overgrown, romantic wilderness of Heligan - now a slick tourist destination called, without a hint of irony, "The Lost Gardens of Heligan". (Incidentally, it was there that the Furnivalls had married the previous year before moving to Gloucestershire). Again, David Hockney was present, this time in his peroxided glory. Flamboyantly dressed in a Union Jack waistcoat (borrowed from Mike Adams who, we have been told, had made it) Hockney draws the attention - even in a black and white photograph you can feel Hockney's polychrome brilliance. He was making waves and becoming famous: a year after these images were made, the RCA was forced to change its rules to accommodate Hockney's refusal to write an essay as part of his final exams. He argued that the art alone should speak, and the college accepted that Hockney's art was too good to fail.
The print (377x251mm (plate mark) with the sheet measuring 570x397mm) shows four people in an open top car one of whom is the waistcoated Hockney. The main image is monotone but at the top right corner of the print is a multicoloured chevron. The photographs are generally in very good condition although one or two have small tears and there is slight toning to edges of the some of them and one of them is heavily stained. There are a few duplicates. Further details and condition report available on request. Slight marking to edges of the print and a small closed tear to bottom edge.
Ron Fuller (1936-2017) was one of the most distinctive and eccentric British artists. After leaving the RCA, he taught at Bristol Art School where Richard Long was one of his students. In 1972, he gave up teaching to become a freelance toy maker and he is remembered and celebrated for his work as a brilliant designer and maker of an extraordinary range of amusing, entertaining and gently macabre toys and automata. The home of British automata is Cornwall (Fuller was one of the founders of the Cabaret Mechanical Theatre in Falmouth in 1979) and perhaps one can see the beginnings of this imaginative wildness in those Cornish years at the beginning of the 1960s when Hockney came to stay and all seemed possible.