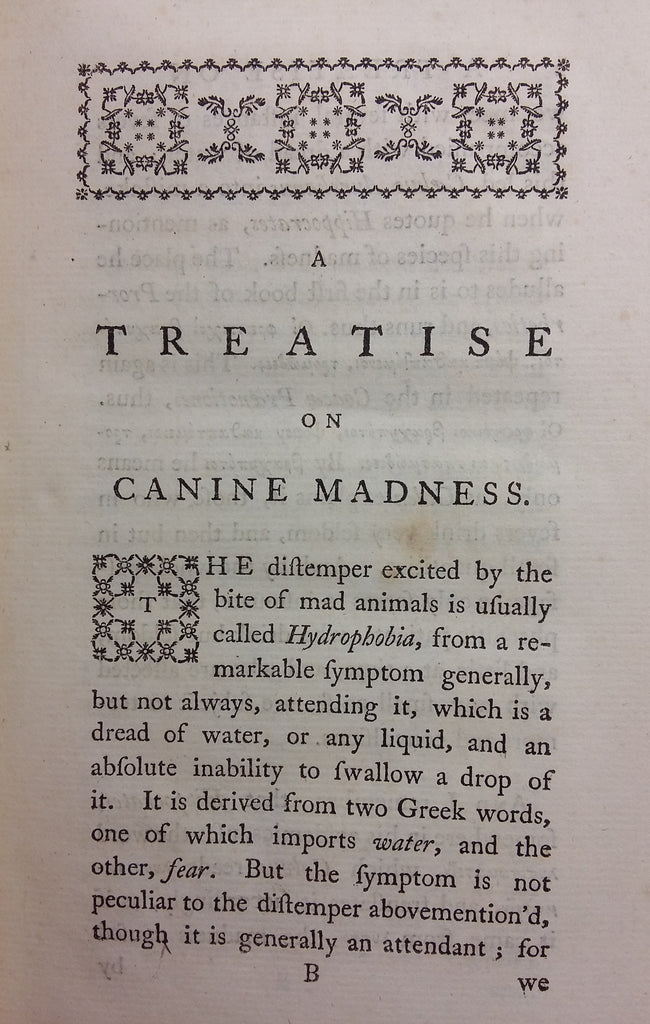 London: Printed for J. Newbery. 1760.

First edition. 8vo (200x120mm). pp. [2], vi, 264. Contemporary calf with double fillet borders in gilt to upper and lower covers, five raised bands to spine, compartments simply decorated with gilt borders. The binding is worn in places with scuffing, particularly to the foot of the upper cover at the joint and on the lower cover near the joint where there is cracking. Corners bumped and rubbed. But overall this is a handsome, simple and tight binding. The contents are in excellent condition, bright and fresh with only a little foxing. The corner of K1 has been lost in opening but this does not affect the text. Edges sprinkled red. The dedication, although declared to be James is by Samuel Johnson who was a school friend of James's from Lichfield.
This highly readable book contains a series of case studies showing the horrific results of dogs biting people. The resulting "hydrophobia" or rabies is described with some relish by James who then offers a number of cures consisting of medicines made to his own recipes. His "fever powder" was a celebrated invention although it was thought to have contributed to the death of Oliver Goldsmith. A fascinating book on a grim subject written with typical eighteenth century brio.